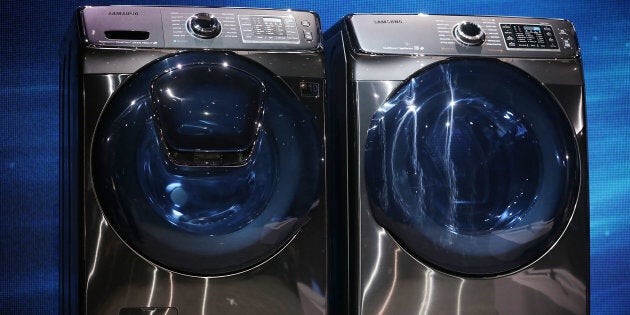 Samsung has racked up its third straight Shonky Award from consumer group Choice, called out alongside Westpac, Coles and five car manufacturers for their dubious and overpriced goods.
Samsung was named and shamed at the annual awards in Sydney for a washer/dryer that takes six-and-a-half hours for one cycle and uses over 200 litres of water, while Honda, Toyota, Lexus, BMW and Mazda were chastened for failing to warn consumers of their deadly Takata airbags.
"Unfortunately each year the Awards go from strength to strength as companies continue to serve up poor value, hidden charges and questionable claims," Choice chief executive Alan Kirkland said.
Almost two-and-a-half millions cars in Australia were affected by the worldwide recall of Takata airbags after they were found to have resulted in at least 18 deaths and more than 180 injuries internationally.
While the 70 models of cars in Australia affected were sold by 14 manufacturers, only Honda, Toyota, Lexus, BMW and Mazda failed to tell customers of the lethal, combustible inflators, and of the like-for-like replacements in vehicles.
"Ultimately consumers need to go back and get it fixed again," Choice spokesman Tom Godfrey told AAP.
"It's just not good enough from some of the biggest car companies in the world".
Samsung's past two lemon trophies were for last year's exploding smartphone batteries, and another unreliable washing machine in 2015.
"Amazingly the first two were for products that caught fire, and this one that wastes water," Mr Godfrey said.
It is the company's fourth appearance at the Shonkys, a record.
Samsung for a $2999 washer/dryer that takes six-and-a-half hours and uses over 200L per cycle;
Viagogo for the ticket resale site ripping off customers with hidden fees and tricky tactics;
Honda, Toyota, Lexus, BMW and Mazda for failing to disclose their Takata airbags have resulted in 18 deaths worldwide and more than 180 injuries;
Vita Gummies for their sugar-coated, tooth-decaying treats;
Westpac for their Bump Savings account with poor interest and a 16-year wait to cash in a dodgy bonus;
Coles for Complete Cuisine cat food which was lacking in nutritional value and could make felines sick;
Pain Erazor pen which is unlikely to erase any pain and more likely to act as a lighter for a stove top;
Cuddly Sensitive Hypoallergenic fabric softener for failing to outperform water while costing 3000 times more
Choice said Coles Complete Cuisine cat food was anything but complete in nutritional value.
"Feeding your feline friend Coles Complete Cuisine could cause significant problems like expensive vet bills, sickness, or worse," host Kate Browne said.
Meanwhile, Nature's Way Vita Gummies were sold as healthy treats for children despite the sugar-coated gummies essentially being little more than lollies that could cause tooth decay.