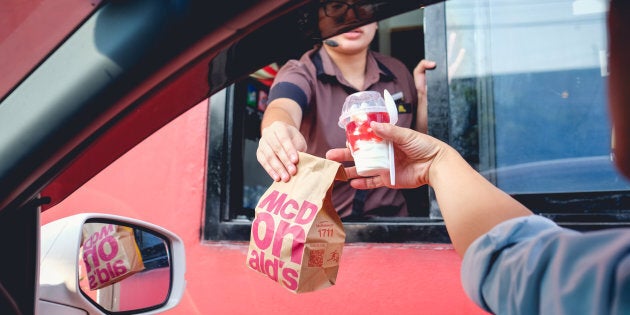 McDonald's, long known for its iconic and meaty Big Mac, Quarter Pounder and Cheeseburger, has unveiled a new vegan burger that it hopes will entice vegetarians to the golden arches.
The new vege burger, called the McVegan, has a soy-based patty, along with pickles, tomato, salad and a special vegan McFeast sauce, all wrapped up in a Macca's bun.
The landmark offering from the meat-heavy fast food giant is just a trial. But if it proves popular the McVegan could one day become a staple on the 62-year-old multinational's menu.
Aussie vegans keen for a taste test will have to wait, with the burger being rolled out exclusively in Finland for the test run.
Australia currently doesn't have vegetarian burger on its McDonald's menu, unlike franchises in many other nations, including India, South Africa, and Germany.
McDonald's did recently trial a vegetarian burger in five Australian outlets, but there is no word yet as to whether that option will be rolled out across the country.
However, Australia could be a good candidate for a vege alternative given its skyrocketing number of vegetable lovers. According to one study from 2016, Australia is the third-fastest growing vegan market in the world.
Australia's packaged vegan food market is also rapidly expanding and is predicted to reach $215 million by 2020.
Vegetarianism is also on the rise in Australia, with the number of non-meat-eating locals now representing about 11 per cent of the population.
The McVegan burger trial in Finland runs until 21 November.