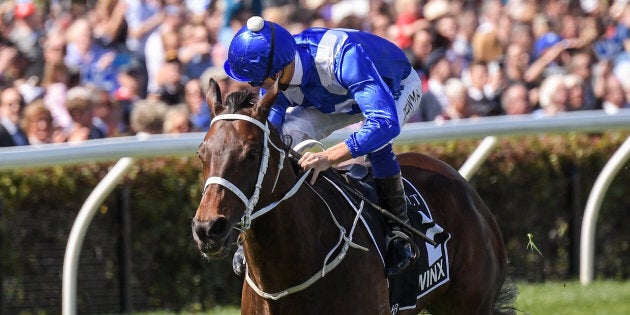 Goosebumps. Absolute goosebumps. Before effortlessly winning Saturday's Turnbull Stakes, Winx had never stepped out onto the hallowed turf of Flemington.
In her 30 previous starts (of which she'd won 24, including the previous 20 straight), the Sydney-trained mare had never visited the course which is synonymous with Australia's most famous race, the Melbourne Cup.
And now she has. And that makes 21. And wasn't it worth the wait.
Winx had laboured a little in her three runs in Sydney since resuming from a spell in late winter. She missed the jump at her first outing, and had to make up serious ground on the leaders in her other two runs as well.
Sure, she won easily enough in the end in those races, but you had genuine reason to be worried mid-race.
Not this time. Not even a bit. Winx won the 2000m Group One Turnbull as commandingly as any race in her career, making Caulfield Cup favourite Humidor -- who ran third -- look second rate.
Winx won by six lengths with Ventura Storm second and Humidor third. Actually forget the official placings. Daylight was second. Winx really put on a show this week, showing exactly why her trainer, the canny Kiwi Chris Waller, says she's better in the anti-clockwise Melbourne way of racing.
"I'm running out of words," Jockey Hugh Bowman said. "She's developed physically and mentally as she's gone on."
Reporters are running out of words too, as are racegoers, and non-racegoers alike. There are rare times in Australian life when horse racing breaks out of its little sporting niche and enters mainstream culture.
It happens once a year at the Melbourne Cup, but otherwise, it takes an incredible horse. We've been lucky in recent years. First there was Makybe Diva, who won the third of her three straight Melbourne Cups in 2005. Then there was Black Caviar, who famously won all of her 25 races, including one at Royal Ascot when she was barely fit to race.
But this is different. This is a horse winning over a wide range of distances, and doing it in a different way each time -- sometimes from near the front, other times from stone last. It's a hell of a thing to see, and the impeccable way her trainer handles himself makes the story all the sweeter.
"This mare makes me feel pretty special," Waller said after the race. Us too.
God help Winx's rivals in three weeks in the Cox Plate at Moonee Valley racecourse. She's trying to win the classic for the third straight time. Only the great Kingston Town did that, and he might have been the best since Phar Lap. Winx might just be better, even if she doesn't win.