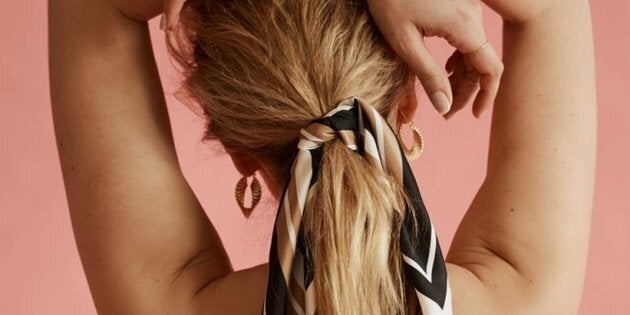 If you needed any convincing that trends are cyclical look no further than pretty much everything Paris Hilton wore circa 2002 for proof. If you held onto your glomesh tops and low rise denim get them out and dust them off because they are back, baby.
Though if the thought of wearing trends you witnessed the first time makes you feel ancient, don't fret. There's a bunch of other accessories making a comeback that were once worn by nannas or chic women of a particular vintage.
Now, as fashion continues to break down age barriers, we're witnessing the return of a couple of items which used to be deemed as daggy, though the latest iterations are anything but. Thankfully they're more timeless than wedge sandals.
Silk scarves
The silk scarf is to this season what the statement earring was to last. New Aussie label Frankie Peach has hit the nail on the head with a freshly launched collection of silk scarves that can be worn limitlessly. The most obvious nod to nanna-chic is around the neck, but a folded silk scarf also looks great around a ponytail or as an accessory on a handbag.
Scrunchies
Sure, Carrie talked about scrunchies in SATC and they enjoyed a small resurgence thereafter, but the true trend dates back to the 1960s. Made more popular in the 80s (paired with a teased out spiral perm), the scrunchie is having a comeback this summer in all its elasticated glory.
New label ScrunchieOs, founded by Canberra native Belinda Bartholomew-Walsh, has taken on the task of making the kitsch hair-tie cool again.
The obvious upside to a scrunchie over an elastic is not being left with a hairband mark, making them great for securing a loose bun when you plan to set it free later. Cotton fabric is common and ideal for everyday whereas velvet is the LBD of the hair-tie world.
Eyeglass chains
You'd be hard pressed to find an Italian nonna without a chain holding her spectacles around her neck. While eyeglass chains are the most questionable of the daggy accessories to give it a crack at becoming cool, it's certainly trying.
Aussie designer Lucy Folk has released a range and while they are the best we've seen, perhaps saving your $$ by grabbing a bargain off Etsy or picking one up from your local pharmacy is the best way to try the trend that will only be around for a hot minute.
The string bag
Okay so this counts as trend number four, so consider it a bonus. We touched on the humble string veggie bag making a comeback already but you're about to see it literally everywhere come high summer. Think of it as your cheap-as-chips beach bag that can double as a backup when you forgot your BYO bags at ALDI on the way home.