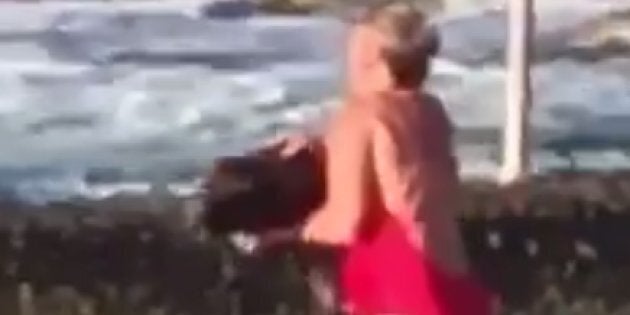 Hatheier told the Today Show that her mother called her from Sydney's Cronulla beach, telling her there was a shark in the Oak Park Rock Pool and that she had already called the Police.
Hatheier and her daughters jumped into the car and headed to the beach to investigate. When the Police were unsure what to do about the animal, Hatheier took matters into her own hands.
"So I came down, there was a bit of a crew down here, and had a look and he was a little Port Jackson and was doing laps of the pool and I said, you know I'm going to go in and check him out," Hatheier told Today.
Hatheier's daughter Shannon filmed her mother as she swam fearlessly up to the one-metre-long creature, picked it up and threw it over the pool's barrier and into the ocean.
"I herded him into the shallows, got him between my knees and just lifted him out," Hatheier told the Today Show.
"As a real estate agent I'm used to relocating people and this was similar".
Hatheier's mother was swimming with the local club 'The Jellybean Minstrels' when she spotted the shark. HuffPost Australia went along to one of the group's swim sessions back in June.
Check out their singing and swimming below.