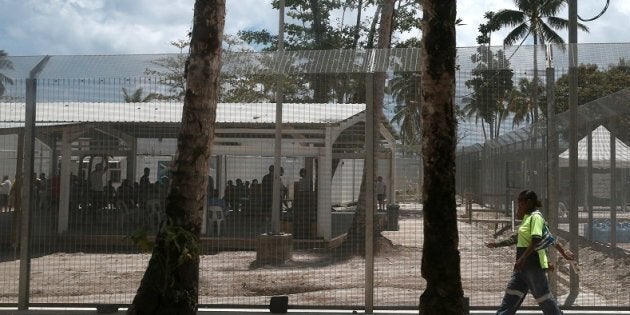 Refugees on Manus Island have been told they can apply to move to the other Australian-run offshore detention centre of Nauru, as the facility in Papua New Guinea nears its final shutdown and demolition.
Signs were posted inside the Manus Island facility on Tuesday stating that refugees who waiting on approval to resettle in the United States as part of the controversial 'swap' deal could apply for transfer to Nauru until a decision was reached.
In a statement to HuffPost Australia, the Department of Immigration and Border Protection said:
The Government of Nauru has agreed to receive PNG-determined refugees in Nauru to await third country resettlement. Relocation is voluntary; no one will be forced to move to Nauru. We continue to work with the Governments of Nauru and PNG to implement appropriate arrangements for people at the Manus RPC.
Behrouz Boochani, an Iranian journalist and refugee on Manus, said he doubted any would take up the Nauru offer.
"It's the latest political trick to get the refugees out of the Manus detention centre, because they have not left the centre despite the Government's efforts to push them out in the past few months," he told HuffPost Australia.
"I talked with the refugees and they are saying they don't want to go to Nauru.
"People are really frustrated and disappointed by this news. After four years of pain the Australian Government should transfer us to a safe place, not to another hell."
The Nauru offer comes within three weeks of the Manus centre's planned shutdown, and confusion as to where the refugees and asylum seekers left in PNG will be moved to. HuffPost Australia understands men on Manus will be moved to one of three new facilities on Manus, depending on their refugee status. It is understood only one of these centres will house a medical facility. It is unclear how these new facilities will be classified, considering the Supreme Court's decision that the existing centre and detention itself on Manus were unconstitutional. So far, no official information has been released about the three new facilities.
Ian Rintoul of the Refugee Action Coalition said that while facilities on Nauru were "marginally better" than those on Manus, that moving refugees there from PNG was not a suitable alternative.
"It's a last desperate measure because they've got the same problem on Nauru as Manus, in that Nauru won't allow these people to stay forever. Hundreds of people will be left behind. This is just moving deckchairs on the Titanic," he told HuffPost Australia.
The sign announcing the Nauru option states that refugees transferring there "will have access to the same services and resettlement arrangements as other refugees on Nauru", which would ostensibly mean access to only a 20-year visa rather than a permanent visa.
Rintoul said he was concerned that medical and accommodation facilities on Nauru would not be able to absorb the extra strain of more refugees from Manus. He also criticised the plan to move remaining refugees to new facilities on Manus, which he also claimed were inadequate.
"The Government goes from disaster to disaster, it's a rolling crisis, there's no resettlement plan. They're trying to shift everyone out of the centre to other barrack accommodation on Manus but the Manus province itself says it wont allow refugees to settle," he said.
"They're taking people out of the frying pan and into the fire, to places with even worse resources. It will be a complete disaster."