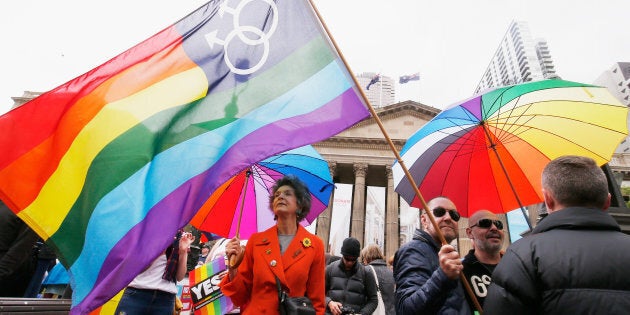 Ten million same-sex marriage surveys have been returned to the Australian Bureau of Statistics, with less than a month to go in the national poll.
As of Friday, 62.5 per cent of the vote had been received, up 800,000 forms from the previous week, the ABS said on Tuesday.
The numbers are an estimate based on bulk containers and not a count of individual or processed forms.
The survey closes on November 7 and the results will be released on November 15.
Both sides of the campaign have been rallying behind their causes during the survey period.
"There are still millions of surveys that need to be posted back to the ABS, we want every Australian to have their say and post YES for marriage equality," Equality Campaign Co-Chair Anna Brown said in a statement.
Just a couple of hours before the ABS released its latest figures a giant NO was written in the sky above Melbourne by a group who turned to crowdfunding to publicise their anti-same-sex marriage stance.