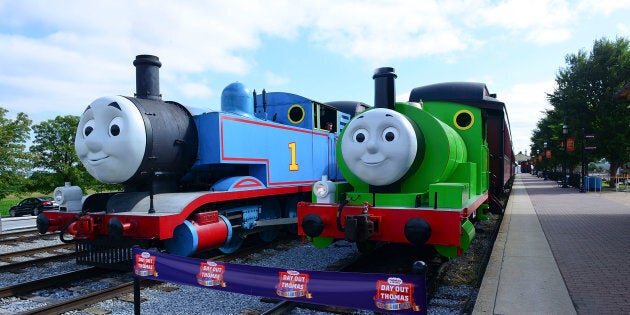 Thomas the Tank Engine will get two new female trains in the biggest makeover the show has had since it hit television in 1984.
This brings the number of female characters up from one to three of the seven core cast members.
And while the two new characters will be joining the crew in Tidmouth Sheds, the show has declared that half of the 26 episodes in the 2018 series will be adventures to other locations.
The hit children's show, which has been translated into 40 languages and broadcast to 150 territories, is trying hard to respond to criticisms it's sexist and classist.
Criticisms arose last year due to the portrayals of female trains in the 'Thomas the Tank Engine Busy Book'.
The depictions of female trains in the book often used old stereotypes:
"Wise and older Edward always has good advice for Emily, who really is a very nice engine but who can be a bit bossy."
In an attempt to modernise, one of the cartoon's female characters, called Nia, will originate from Africa.
Similarly, there will be changes to the iconic Fat Controller character: series producer Ian McCue told the Telegraph he will become less gruff and "more endearing".
McCue also explained why they were changing the show's theme song:
"If anything came out of the research that was universally positive, it was the roll-call song. But we can't go around saying we've got this brand new show and then start it with the same song - people would say 'What's new about this?'"
Not everyone is happy with the show's makeover. Fans on Twitter expressed their disappointment at some of the changes:
The new series will also have a focus on the United Nation's Sustainable Development Goals. These goals, which came into effect on 1 January 2016, aim to be a broad global agenda for the next fifteen years.
The cartoon's creator Mattel has coordinated with the UN to develop episodes on five of those goals, including quality education, gender equality, sustainable cities and communities, responsible consumption and production, and life on land.
The cartoon is based on books by Reverend Wilbert Awdry, who passed away in 1997. Awdry created the stories for his son, and later published books about the anthropomorphic train world starting from 1945.