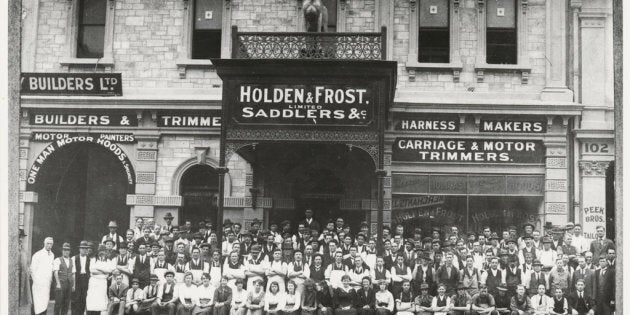 The end of Australia's ailing car manufacturing industry has been coming for years.
But that didn't make Sunday any less moving for the big crowd that turned out to see more than 1,000 Holdens parade through Adelaide, marking the closure of the last Holden factory in Australia.
The nostalgic drive began Sunday morning at the Elizabeth City Centre, not far from the historic auto plant, and followed an 11 kilometre route past the factory, finishing at Elizabeth Oval.
In addition to Holdens from the car maker's heyday there were performances by X-Factor winner Samantha Jade and Australian Idol contestant Wes Carr, and an auction of rare Holden Commodores.
The emotional event was all for a good cause, with proceeds from the auction going towards Learning for Life, a Smith Family program which offers financial assistance and mentoring to disadvantaged children.
Holden's executive director of manufacturing, Richard Phillips, said he was devastated at the closure.
"I think [Holden] holds a very special place in people's hearts," Phillips told the ABC,
"It's hard in South Australia to know someone who hasn't worked at Holden."
Despite its imminent closure, there are still currently 945 workers still on hand at the Elizabeth plant, but only a small number will remain on after this week in order to shut the site.
Less than a decade ago, around 3,400 people were employed on the site that produced around 100,000 cars a year.
But in 2013, after years of speculation over the plant's future, Holden announced that it would gradually wind down the site's operations due to cheaper manufacturing options overseas.
Holden's departure from Australia follows decisions from Toyota, Nissan and Mitsubishi to abandon production of their cars in the country.
It marks the end of Holden's proud history in Australia which dates all the way back to 1856 when James Alexander Holden established the company in Adelaide. The company originally manufactured horse-drawn coaches, before becoming the sole supplier of General Motors vehicles in 1924.
Opposition leader Bill Shorten responded to the landmark closure by announcing a new $1 billion manufacturing fund which would support Australian manufacturing firms scale up in size.
The closure is another blow to South Australia's job market, which despite the unemployment rate in the state improving from 6.2 per cent to 5.7 per cent this year, continues to struggle.