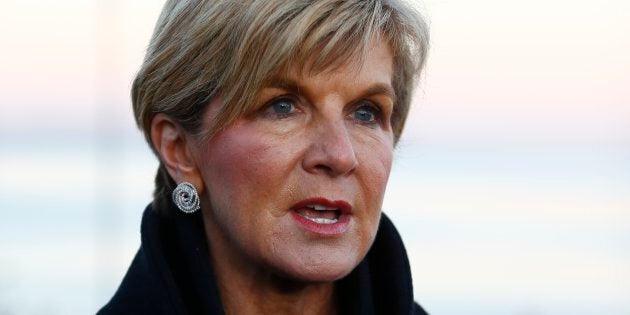 Australian Foreign Minister Julie Bishop expects North Korea to make another statement while its strongest ally China is in the global spotlight.
"In the past, it has been noted that North Korea seems to deliberately set out to embarrass China and has launched missile tests, or carried out illegal nuclear weapons tests, at a time when China is showcasing the nation on the world stage," she said.
"There may be another provocative act by North Korea around the time of the 19th Party Congress - we hope not - but this seems to have been a pattern of behaviour."
China's ruling Communist Party will hold a four-day, once-in-five-years Congress starting on Wednesday. North Korea has previously fired off missiles coinciding with other key world events.
On the weekend, Pyongyang again called out Australia for its outspokenness in calling for North Korea to end its nuclear weapons program.
"Lately, Australia is showing dangerous moves of zealously joining the frenzied political and military provocations of the US against the DPRK," state-run news agency KCNA said in a statement on Saturday.
"Should Australia continue to follow the US in imposing military, economic and diplomatic pressure upon the DPRK despite our repeated warnings, they will not be able to avoid a disaster."
But Ms Bishop, who was in South Korea with Defence Minister Marise Payne for talks with their South Korean counterparts, hit back and said Australia was not a "primary target".
"North Korea's threats only strengthen our resolve to find a peaceful solution to the rising tensions on the Korean Peninsula caused entirely by North Korea's illegal, threatening and provocative behaviour," Ms Bishop told reporters in Sydney on Sunday.
During the visit, the ministers stressed the need for diplomatic pressure to thwart North Korea's nuclear ambitions and urged the country not to carry out any more weapons tests and halt its nuclear and missile program.
Pyongyang has seemingly set out to embarrass China with escalating behaviour while its largest ally was the centre of international attention, Ms Bishop says.