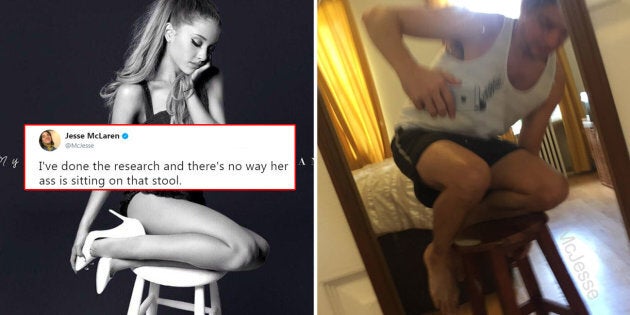 Yes, yes we KNOW the world is ending, there is real news happening, we get it. But look, all around the world people are ignoring the constant and suffocating feeling of doom that has become synonymous with 2017 and are uniting to figure out one thing: How is Ariana Grande perching on a stool in her 'My Everything' Album cover?
It all started with BuzzFeed's Jesse McLaren posting the following on twitter:
The tweet absolutely exploded because, let's be honest, how is she balancing like that? It's very precarious, yet she seems so comfortable. Could it be done?
Even Ariana Grande herself weighed in, basically begging the internet to prove it's possible.
And thus a trend was born.
There were also receipts uncovered to reveal that, despite claims of photoshop magic, Grande definitely was sitting on a stool at the time of the photo shoot, she was not -- as far as we can tell -- practicing some kind of stool based witchcraft or wizardry.
While some were proving it was totally possible, it didn't go great for everyone. Please, if you try this at home, perch safely and perhaps under the guidance of an adult supervisor.
Despite some thrills and spills, many found that it was actually possible to replicate the otherwise mind-boggling pose.
So there you have it. That's what the internet has been up to today.