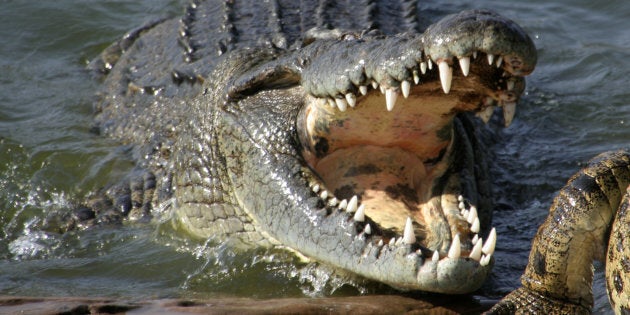 Human remains have been found inside a large crocodile police believe killed an elderly woman in Queensland's far north.
Remains believed to belong to Anne Cameron, her walking stick and other items were located at Craiglie Creek, south of Port Douglas, last week.
The 79-year-old was last seen two days before the grim discovery near an aged care facility and it's thought she became disorientated on a walk and wandered into dense bushland.
Baited traps were set along the creek and nearby Mowbray River, with wildlife officers capturing a 4.3-metre crocodile early on Tuesday near Craiglie.
The euthanised animal was examined in Cairns, with human remains found inside.
Queensland Environment Minister Steven Miles said the animal's size and behaviour made experts confident it was the crocodile they had been seeking.
"The staff are experts in crocodile behaviour, biology and ecology and have done a tremendous job in identifying and removing the target animal," Mr Miles said in a statement.
"It has been a very difficult and harrowing week for all involved, and my thoughts are with the family of Anne Cameron at this sad time."
A report will now be prepared for the coroner.
Ms Cameron's death has prompted Katter's Australian Party to renew calls for more stringent management of crocodiles, including culling.
Two other people - Warren Hughes, 35, and Cindy Waldron, 46 - have been killed by crocodiles in far north Queensland in the past 18 months.
Mr Miles said it was important residents and visitors to far north Queensland remain vigilant to the threat of crocodiles.
"We have permanent crocodile warning signs in place to remind people this is croc country. The signs are there to keep you safe so please acknowledge them."