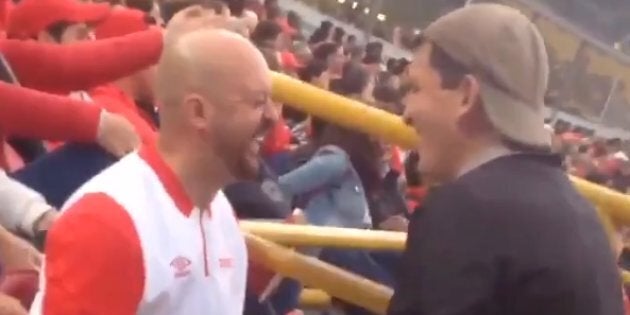 A father at a football game has come up with a creative way to help his son, who is blind, enjoy the match.
The dad moves his son's hands around a cardboard cutout pitch as the action plays out, so he can follow the game.
These efforts mean the boy can follow everything that happens and enjoy the match as much as his dad does.
Dad marking out on a small football pitch with his blind son's hands what's going on down on the actual pitch. Good parenting from you, Dad. pic.twitter.com/az36eprINf

— Ball Street (@BallStreet) October 17, 2017
This father-son duo however, are not an isolated pair.
Back in September, two boys were tracked down by the Sydney Swans after their story went viral. One of the boys is blind and so the other gave his mate a blow-by-blow description of the AFL match in real time, so he could enjoy the action just like anyone else.
Following a shout out from the Sydney Swans, the boys were found and treated to a day at the Sydney Cricket Ground, where they were welcomed into the dressing room to meet some of the players and they even got to kick a footy around on the oval itself.