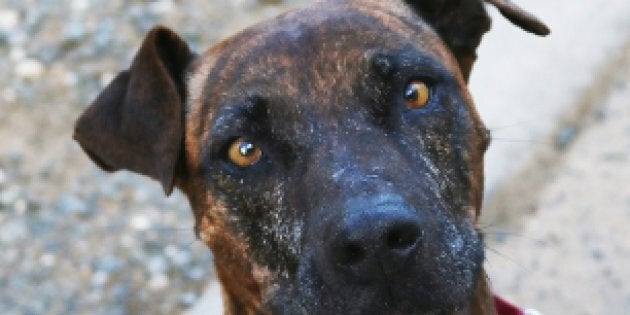 While Labradors are the most popular dog breed in Australia, they're closely followed by the Staffordshire bull terrier, or staffy, as they're more commonly known.
This goes some way to explaining why there are a lot of staffys in animal shelters, (logically: there's simply more of them around). But according to the Animal Welfare League NSW, which has several staffys in their care, they're not the easiest dogs to rehome.
It's partly thanks to some 'urban myths' that staffys are not an ideal family dog.
"There does appear to be some people who feel that staffys are generally unfriendly to both people and dogs. But it's important to remember, even within a breed, that all dogs are individuals," Karen Riddell, Animal Welfare League told HuffPost Australia.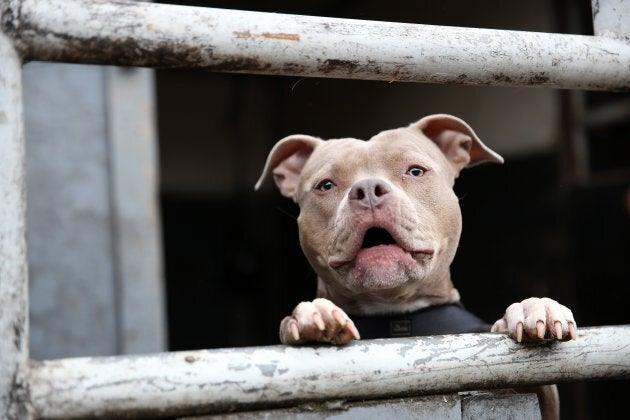 "Others might not like the way they look. They're an athletic and muscly smooth-coated dog which some people don't find as cute as the more popular fluffy dogs."
Animal managment expert Melanie Isaacs told HuffPost Australia there's a bit of a misconception that Staffys are not great around children when, the truth is, the majority of them are great with kids and make a perfect family pet.
"But, at the end of the day, you can't really generalise when it comes to dogs. I believe 99 percent of all dogs are wonderful, but it depends on the personality," Issacs said.
"I always encourage people that instead of looking at a particular breed, look for the behaviour you want and make a choice with that in mind."
The Animal Welfare League NSW has several staffys in their care. Here's a closer look at two of AWL staff favourites.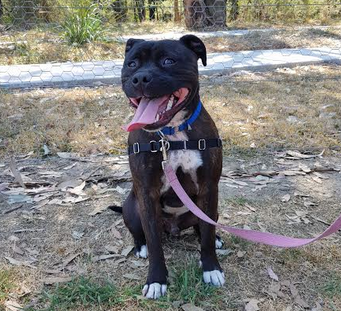 Ted's Story
Ted is still very young at just 13 months old. He was very much loved by his owners who had some tough life circumstances to deal with and realised they could no longer provide the best care for him.
"His previous owner told me that Ted was like a child to them as they had older children and that he had even been known to sleep in the bed with them. Ted has had basic training and was walked often," Riddell said.
"Ted was with his family since he was just eight weeks and had a wonderful life with them. He's a really handsome boy and just loves people. He can get over-excited around other dogs and we are working to help him to control his excitement and interact more appropriately with other dogs."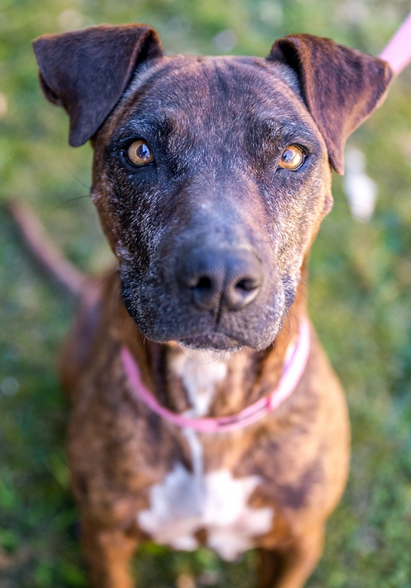 Shady's Story
Shady is a ten year old lady who is urgently needing adoption. In fact, the AWL is making her the focus of their Xmas adoption appeal, because she has been in their care for a year now. She apparently loves being around people, and would be best suited as the only dog in the house.
"Staffys are such energetic and enthusiastic dogs, they really need to be considered part of the family and require a serious commitment of time and energy," Riddell said.
"If you're are looking for a fine family dog, don't discount the humble staffy or staffy-cross, because the right one will be a loyal friend for life."
All AWL animals are desexed, microchipped, health checked, vaccinated, wormed and flea treated.
If you're interested in adopting a staffy (or any other pet needing a home), check out the AWL NSW website, Facebook page or email kempscreek@awlnsw.com.au.