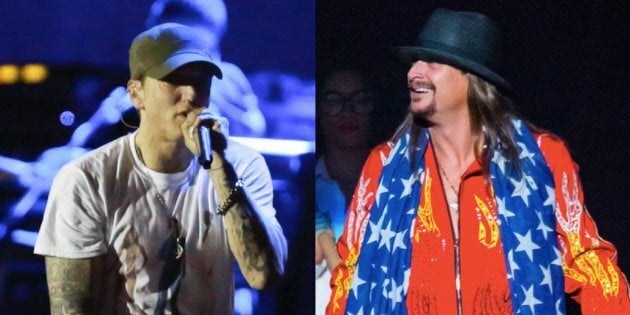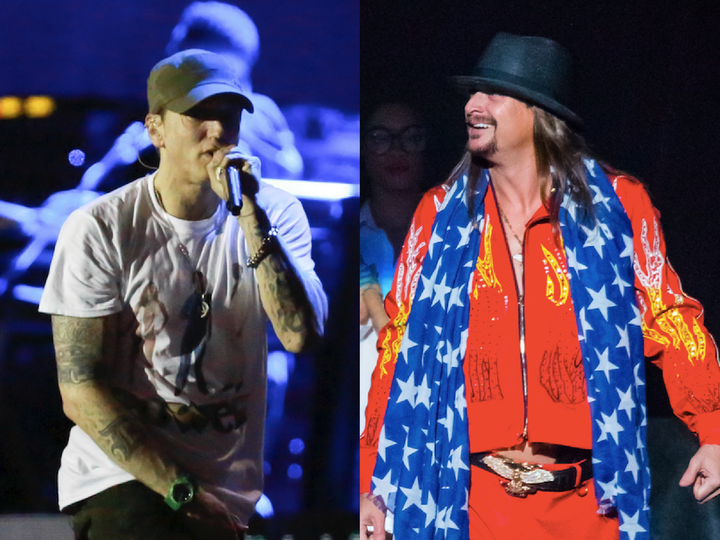 In the late '90s, two Detroit rappers introduced themselves:
"My name is―" Eminem began his identically titled track, which became the biggest hit on his major-label debut album, "Slim Shady LP," the one that launched him to fame.
"My name is―" Kid Rock rapped in the first distinguishable words on "Bawitdaba," which became the biggest hit on his own major-label debut album, "Devil Without a Cause," the one that launched him to fame.
Last week, after Eminem released "The Storm," a four-minute takedown of President Donald Trump ― the candidate Kid Rock lauded in the 2016 presidential election ― the two could not seem more different. While Eminem has attempted to echo the views of some on the left with his sharply critical lyrics slamming Trump for racism, Kid Rock has gone off on right-wing rants against "fake news" and the "extreme left," and maintained his support for the president. One lyric neatly illustrates the divide: In "The Storm," Eminem raps, "This is for Colin, ball up a fist," expressing support for Colin Kaepernick, the NFL player who started taking a knee before games to protest racial inequality. Just over a month before the release of "The Storm," Kid Rock sparked outrage for yelling "fuck Colin Kaepernick" onstage at the Iowa State Fair, throwing his support behind those who accuse the football player of disrespecting the national anthem.
Nearly 20 years ago, though, cultural critics couldn't help but consider their similarities: two white guys in the same city, speaking to a working class, were dabbling in a genre where they stuck out awkwardly among its black pioneers. In a 1999 piece on race in hip-hop, The New York Times lumped them together as admitted outsiders "using rap to speak about growing up impoverished and white." (Although "impoverished" had never really applied to Kid Rock.)
"At their base, and at their beginnings, they were peas in a similar pod," Detroit-based music journalist Gary Graff told HuffPost. "They both came from different sections of the rap underground, the hip-hop underground, at the time, but they were aware of each other. The people who were listening and aware of them were aware of both of them."
Their backgrounds are just comparable enough to complete the picture. Kid Rock, 46, born Robert Ritchie, grew up in a small town north of Detroit called Romeo, where ― despite lyrics that suggest a more downtrodden situation ― he was raised in idyllic affluence, in a 5,600-square-foot home ensconced by an apple orchard. He's said to have clashed with his father, who owned a local auto dealership, as he pursued an interest in hip-hop. Parties and underground clubs around Detroit gave Ritchie the chance to hone his DJing and rapping skills; he signed with Jive in the early '90s as a fledgling rapper but was quickly dropped. With a loan from his father, he set up his own label, eventually attracting the attention of a larger label.
Eminem, 44, born Marshall Mathers, had a significantly more hardscrabble childhood before diving into the Detroit rap scene. Raised by a single mother on Detroit's East side, the rapper used much of his early work to accuse her of drug addiction and slam her parenting decisions, which led the small family to relocate several times. Although he was known for his dextrous language skills, Eminem dropped out of high school as a teen. His attempts to make a name for himself through rap battles in and around Detroit ― while working to make ends meet ― were famously documented in the 2002 film "8 Mile."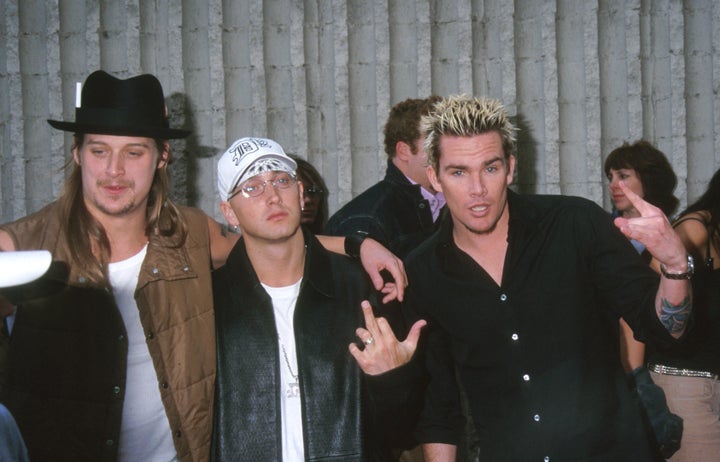 As a couple of the Detroit hip-hop and rap scene's only white participants, Eminem and Kid Rock had no choice but to acknowledge each other. A record store owner once told the Detroit Free Press that, in the early '90s, he witnessed a then-unknown Mathers challenging Ritchie to a rap battle. "Kid Rock was cordial about it," he told the publication. Their careers took off around the same time, with "My Name Is" battling "Bawitdaba" on MTV's "Total Request Live" in '99.
One was asked about the other in interviews, where they referred to each other as friends who occasionally got together for dinner. "He'll come over my house. I've played basketball with him, you know?" Eminem told the Detroit Metro Times in 2009, adding, "Yeah, me and Bob are pretty good friends."
"I remember when they both were being sued, Kid Rock giving the middle finger to 'everybody who's suing me and Eminem,'" Graff said.
They even collaborated a few times: Eminem appears on Kid Rock's 1998 track "Fuck Off," which was featured on "Devil Without a Cause," and the 2013 music video for Eminem's "Berzerk" features a Kid Rock cameo. For a while, it seemed like people identifying with the angry white guy Eminem were a lot of the same people identifying with the angry white guy Kid Rock. It so happened that angry white guys in music were all the rage then.
"They both came to prominence at this time where popular music was undergoing this testosterone-fueled resurgence of maleness," Anthony Bozza, author of Whatever You Say I Am: The Life and Times of Eminem, told HuffPost. "It was a combination of testosterone, super-duper 'guy' rock, and white guys rapping that commanded the airwaves."
But the divisions that had always separated their music became more prominent after they secured commercial success. An Associated Press review noted that Kid Rock was "going country" in 2003, leaning into the "hick" part of the "hick-hop" label he earned from a Chicago Tribune critic in 2000. He started going on an annual cruise with his fans celebrating, as GQ described, "a well-kept secret of American life, which is that rednecks, in general, have more fun than uppity liberal folk." Eminem, at first concerned with making fun of pop culture as "this sort of amazing cartoonish brat," in Bozza's words, began launching attacks on other targets in the mid-2000s, letting his leftist political flag fly. Then-President Bush became the target of Eminem's ire in the protest track "Mosh," off 2004's "Encore."
("... Let him go / Fight his own war, let him impress Daddy that way / No more blood for oil," he raps. In a brief interview with Rolling Stone, he slams Bush but stops short of throwing his support behind anyone else.)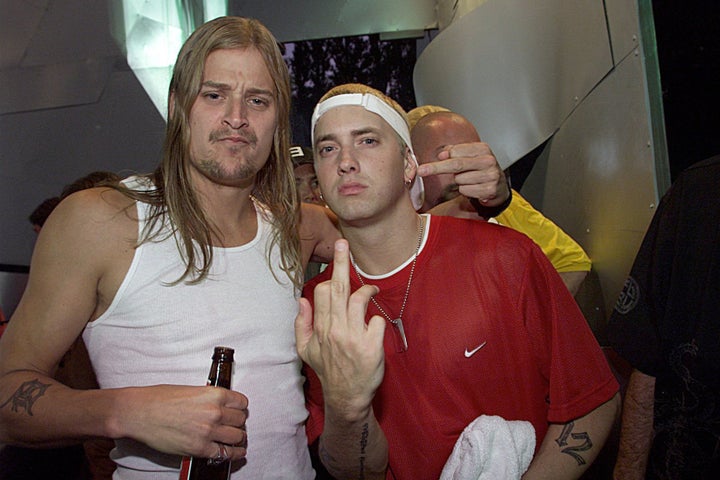 It might not have ever been the case that Kid Rock and Eminem were speaking to exactly the same crowd. But in 2017, it's obvious they aren't.
During the 2016 presidential election, Kid Rock came out in support of Trump early in the year, telling Rolling Stone that Trump's campaign "has been entertaining as shit." Months later, he came out with a line of pro-Trump merchandise referring to pro–Hillary Clinton states as "Dumbfuckistan," and dined at the White House with Ted Nugent and Sarah Palin. This summer, he announced that he was seriously considering a run for U.S. Senate. He's still considering it.
His fellow Detroiter, meanwhile, has been a vocal critic of Trump and Republican politics, encouraging a crowd of 90,000 to chant "fuck Trump" at an August show in Glasgow, Scotland. The brutal freestyle video he dropped during last week's BET Hip Hop Awards addressed not only racism but the president's views on guns and hurricane-devastated Puerto Rico. Eminem called the current administration a "kamikaze that will probably cause a nuclear holocaust." (A representative for Kid Rock declined HuffPost's specific request for comment on the video.)
The divide between the two performers' views trace all the way back to where they got their start: Kid Rock's rural hometown of Romeo, located in 82-percent white Macomb County, voted Trump in the election; Eminem's home base of Wayne Country, the 55-percent white area where the city of Detroit is located, voted for Clinton. Trump held a 12-percentage-point lead over Clinton in Macomb. In Wayne, Clinton held a whole 37-percent lead over Trump.
Michigan's 16 electoral college votes went to Trump. Like much of the country, its majority-white rural counties leaned red, and its more diverse metropolitan areas, blue.
The extent to which fans of each performer's music agree with their right- and left-leaning political ideals is not entirely clear. "There's certainly part of the Eminem fan base that's not with him on this," Graff noted, "and there's certainly part of the Kid Rock fan base who aren't Republicans or waving Confederate flags or wearing hoods. There are a lot of left-wing people who have liked Kid Rock ― and the ones I know are having a lot of trouble with what's going on now."
If angry white guys were all the rage in music a few years ago, angry white guys in politics are the unfortunate sequel. And as the line between entertainers and political figures has continued to blur, Eminem and Kid Rock have come to represent the poles of a white political divide that's long been simmering. Kid Rock, a beacon of national pride in red, white and blue who's leaned into his rural roots, reflects the right which has taken hold there. Eminem, who remains more closely aligned with the urban hip-hop scene, reflects the left, however oddly. On both sides, discourse is punctuated by anger: anger at Trump, anger at immigration policy, anger at Americans of color which erupted into violence that left one woman dead last August.
Of course, the right-left divide includes others who are angry, too ― women of color, men of color, white women. Eminem and Kid Rock reflect only a subset of Americans, but one that has shouted its way into the forefront of national discourse in 2017.
Both Kid Rock and Eminem's reps did not return HuffPost's requests for comments on this piece.