A 5,000-mile-long belt of rain is battering the Northwest this week, an "atmospheric river" stretching across the Pacific Ocean from China to British Columbia.
The storm system, which some weather officials have described as "The Big Dark," is expected to drop 10 to 15 inches of rain and snow over high elevations and 2 to 5 inches of rain over the Puget Sound region in Washington state.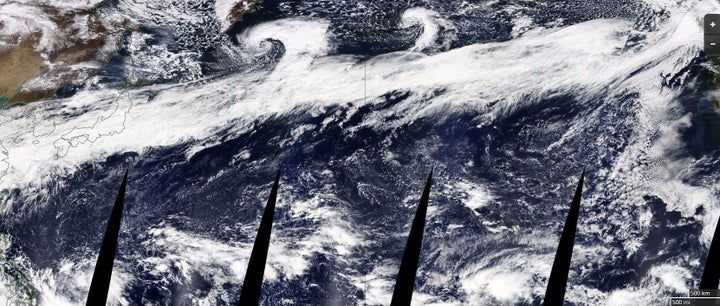 The system could be seen earlier this week on an image released by NASA as a giant horizontal band of clouds over the Pacific. Dustin Guy, an official at the National Weather Service in Seattle, described it to The Seattle Times as "one long stretch of moisture a few thousands miles long that will be hitting us in the face."
At least one city in Washington set a daily record for precipitation Wednesday, and Seattle was expected to have its wettest 24-hour period since February. Local ski blogs in British Columbia gleefully predicted the region could get 28 to 80 inches of snow during the week.
Strong wind gusts knocked out power to more than 54,000 people in western Washington, and a ground delay was temporarily placed at Seattle-Tacoma International Airport, according to KING 5 TV. Ferry services were temporarily closed as well.
The National Oceanic and Atmospheric Association describes such weather patterns as "rivers in the sky" that transport water vapor from warm tropical areas to cooler regions.
"These columns of vapor move with the weather, carrying an amount of water vapor roughly equivalent to the average flow of water at the mouth of the Mississippi River," the agency says. "When the atmospheric rivers make landfall, they often release this water vapor in the form of rain or snow."
The Washington Post notes that while this week's storm is certainly dramatic in its scale, atmospheric rivers this large have been seen before. Another over the Pacific Ocean in October 2009 hit central California and dumped up to 15 inches of rain over parts of the state.