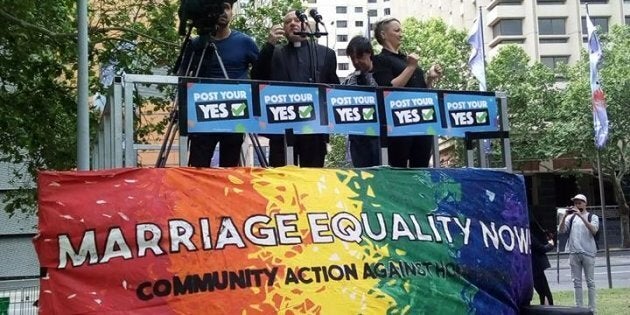 The 'Yes' campaign's National Equality Weekend has kicked off with rallies today in Sydney, Brisbane, Alice Springs and Hobart.
More than 20,000 people showed interest in the Sydney event on Facebook before the rally kicked off at 1pm. Crowds started off at Belmore Park before heading towards Victoria Park, near the University of Sydney.
Speaking at the rally was federal Deputy Opposition Leader Tanya Plibersek, who started by saying she didn't just feel sad about the plebiscite process, but "angry too".
"We have just a few more days to go and millions of votes to collect, so when they go low, we'll go high ," she said, invoking Michelle Obama's famous phrase from the United States' 2016 presidential election.
She followed a speech by transgender activist Norrie, who was at the centre of a historic 2014 High Court decision that permitted individuals to be registered as neither a man nor a woman in the NSW Registry of Births, Deaths and Marriages.
Equality Campaign's Shirleene Robinson said that the rallies were organised to "maintain momentum" and ensure that postal votes kept coming in for the last weeks of the campaign.
"Apathy is still our biggest threat. There are millions of votes up for grabs and we urge everyone to keep talking to family members, friends and workmates right up to the day the survey closes," Robinson said.
And there were some great signs on display:
While bad weather dampened the mood for the Brisbane rally, many still turned up with rainbow umbrellas in hand:
Speaking before the Brisbane rally, the Equality Campaign's Queensland Director Peter Black noted that a lot of work had been done in the state.
"We have spoken at community forums across the state, from the Gold Coast and Rockhampton to Townsville and Cairns," he said.
The rallies come after a YouGov-Fifty Acres poll released this week showed the 'yes' vote at 61 per cent, compared to 35 per cent for the 'no' vote. The Australian published a Newspoll that said that 59 per cent of eligible voters had voted yes, and 38 per cent had voted no.
According to the Australian Bureau of Statistics, 10.8 million forms had been returned by Friday 13 October. That's almost 70 per cent of the 16 million surveys that were released on September 12.
There will be rallies on Sunday in Canberra, Melbourne, Coolangatta, Adelaide, Perth and Darwin.