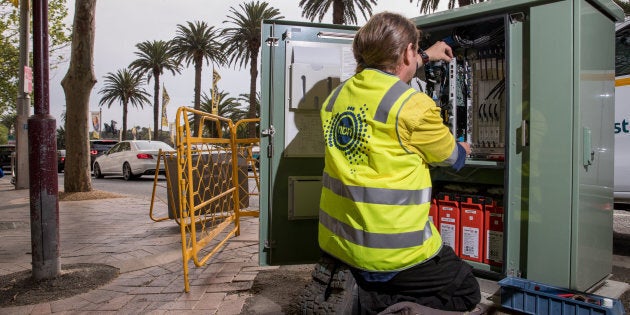 CANBERRA -- Prime Minister Malcolm Turnbull has appeared to rule out slugging mobile phone users with taxes or levies to pay for the National Broadband Network after the NBN chief flagged it as a way to prop it up.
Although Turnbull describes the NBN as a "calamitous train wreck of a project" that may never earn a profit.
Dealing with high costs and having to repay government loans and pay dividends, Morrow told Fairfax, "Things are going to have to happen. The government has two options: to regulate to protect this model, or to realise that the NBN won't have the finances it thought and might require some off-budget monies to go in to make it happen."
"I think government moves are going to be inevitable.
"It all depends on how serious this competitive threat is, but being an old wireless guy I can guarantee you I would have had my team seriously looking at this."
Turnbull, a former Abbott government communications minister who has been highly critical of Labor's initial handling of the NBN, on Monday described the project as entirely a mistake in hindsight, "look, the NBN was a calamitous train wreck of a project when we came into government".
But he indicated mobile phone users should not have to pay for it.
"Well, there is no plan to impose any restriction on, you know, mobile data," the prime minister told reporters in Canberra.
"Look, it is a competitive environment, but I just want to repeat we are doing everything we can to ensure the NBN delivers a great service."
"We're doing everything we can to ensure that the telcos, the retail service providers, deliver to their customers what they promise. And one complaint is one complaint too many. So we are not going to be satisfied with anything other than 100%. I know it can't be achieved, but that's the goal."
"At the moment, it is estimated to deliver a return of around three percent, which .. is enough to keep it on the government's balance sheet, as a government asset, but it certainly is not a commercial return that the stock market would expect."
As for a six percent profit, Turnbull said, "there's no way it would reach that".
"It is, again, we were dealt a very, very bad hand of cards by Labor."
The roll out has been described as a "lottery": About one-fifth of Australians are getting technologically superior direct fibre connections, but the majority are being connected with older technology such as copper phone wire and pay television cables.
One Tasmanian house, it's been revealed in The Australian and Fairfax media, has cost more than $90,000 to connect via direct fibre. And Four Corners reported data on a USB memory stick was transported faster across town by car in Brisbane than on a fibre-to-the-node (FTTN) copper connection.
"I regret anybody that does not get the experience they deserve using the NBN broadband service," Morrow told RN Breakfast.
"We are investigating a lot of different issues around why people are experiencing such slow speeds. We know that the network can actually support the speeds that we claim and that is 80 percent of the country will get at least 50 megabits per second and the rest will get at least 20 megabits per second."
On Four Corners, Morrow will concede that the fast pace of the rollout is leading to compromises and said it "turns his stomach" that some customers are getting left behind.
He indicated complaints and questions may be best directed to retailers.
"So if somebody is slowing down to the one or two or the five megabit per second claims that we hear, there is something else up with that. They really do need to speak to their retailers. That is where we see typically the biggest squeeze when it comes down to that speed compression," he explained.
NBN Co is also announcing it is trialling its first fibre-to-the-curb (FTTC) premises in northern Melbourne as a better alternative to FTTN but is not quite fibre-to-the-premises (FTTP).
Morrow insists it is not a halfway measure.
"Not at all. If you look back even to the strategic review of 2013 fibre-to-the-curb was mentioned then as one of the technologies. An evolution of fibre-to-the-node that we would be deploying," he told RN Breakfast.
"It is still more expensive than FTTN or HFC (hybrid fibre coaxial). Remember this is a users pay model."