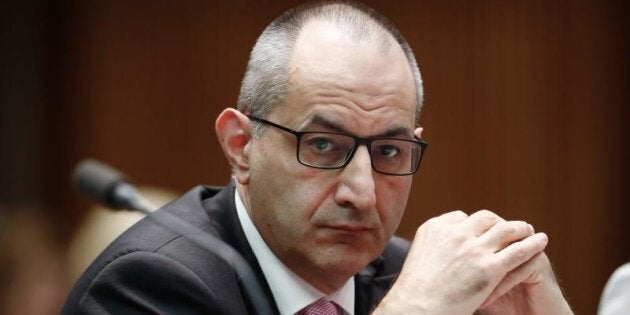 CANBERRA -- A fiery exchange in Parliament over Australian's heavily criticised offshore detention program has lead to the head of Immigration Department Mike Pezzullo joking about torture.
Pezzullo was being quizzed by Greens senator Nick McKim in a senate estimates hearing on Monday over the imminent closure of the Manus Island regional processing centre.
The hearing heard there are still 606 men at the centre, which will have its power and water shut down in eight days before it will taken over by the Papua New Guinea military.
The Greens senator is concerned the shutdown may end in violence and injury.
"Spare us the fake sympathy. You have been torturing them for four and half years," the senator declared.
This set off the Department head who was giving evidence to the Greens senator with his arms firmly crossed.
"I reject any assertion that this department has been torturing anyone. The only torture I am aware of is sometimes when we have to appear here," Pezzullo said.
At least one person was heard laughing to that proposition and Pezzullo and minister Michaelia Cash smiled.
McKim took immediate umbrage.
"I don't think torture is a laughing matter, Mr Pezzullo," he fired back.
Pezzullo attempted to explain.
"I don't know how to get through to you on occasions Senator, whether it is by deft responses or just by frankly sometimes highlighting just how silly these conversations can get," he said.
Australia is working with the Papua New Guinean Government to close the Manus centre by October 31.
The Turnbull Government says alternative local accommodation and support services have been organised ahead of the centre's closure.
Pezzullo claims there the refugees refusing to leave the Manus centre are being "animated" by a "vigorous campaign" by activists that they might come to Australia.
If the men are still in the centre after October 31 he said they could be in violation of PNG's trespass laws.