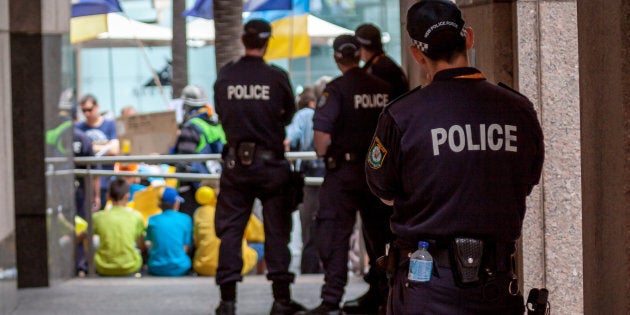 The Australian Workers Union says federal police raids on their Sydney and Melbourne offices are part of an attempt to smear Labor leader Bill Shorten.
Australian Federal Police officers raided the AWU headquarters in Sydney and Melbourne on Tuesday evening.
The raids "are in support of an ongoing investigation being conducted by the Registered Organisations Commission", the AFP said in a statement on Tuesday.
The raids come after the federal government asked the commission to investigate a donation of union funds to activist group GetUp! when Mr Shorten was in charge of the AWU.
Employment Minister Michaelia Cash earlier this month referred the issue to the ROC following reports the union gave about $100,000 to the left-wing advocacy group when it launched in 2005.
AWU national secretary Daniel Walton on Tuesday said the raids were "an extraordinary abuse of police resources".
"It is clear the Registered Organisations Commission has been established, not to promote good governance, but to use taxpayer and police resources to muckrake through historic documents in an attempt to find anything that might smear a future Labor prime minister," Mr Walton said in a statement to AAP.
Senior federal Labor frontbencher Brendan O'Connor said Prime Minister Malcolm Turnbull and his government were "entirely responsible" for the raids.
"The Liberals have already wasted millions of taxpayers' dollars on their witch hunt into unions," Mr O'Connor said in a statement.
"They will stop at nothing to attack workers and their representatives."
GetUp! on Tuesday said it had previously acknowledged receipt of a donation of $100,000 in 2005 from the AWU.
"There is no suggestion of any impropriety on GetUp!'s part on the receipt and handling of the donation," a spokesman told AAP in a statement.
Liberal Senator Eric Abetz said if the GetUp funding was proved inappropriate, it raised serious questions.
"I am pleased that finally issues relating to potential trade union corruption are being taken seriously and thoroughly investigated," he said
"Honest union members have the right to know that their money is being spent correctly."
The commission's website says an ongoing investigation into the AWU's national office and the Victorian branch commenced on October 20.