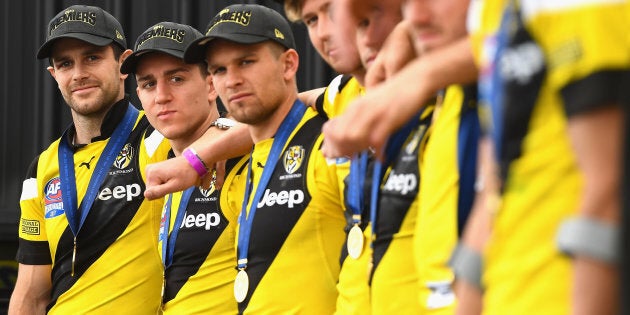 A photo of a topless woman wearing a Richmond premiership medallion around her neck has finally sparked an AFL investigation after police dropped the case.
Days after the Tigers' historic grand final victory on September 30, the photo was circulated on social media showing the unidentified topless woman wearing the medal.
"The AFL was contacted by Victoria Police, confirming their investigation had ceased," a league spokesman said on Wednesday.
"The AFL Integrity Unit are now investigating the matter."
A Richmond spokeswoman earlier confirmed the club continued its own inquiry, but declined to confirm any details or whether the player whose medal was featured in the photo has been identified.
"The club is still looking into it and are dealing with it," she said.
The woman in the image initially complained to police that she did not consent to the image being shared.
On Tuesday police said their investigation was over.
"At the request of the complainant the investigation into the circulation of intimate images has ceased," Victoria Police spokeswoman Natalie Savino said.
The AFL will not comment further on the matter until its investigation is complete.
"We ask to please respect the privacy of those involved," the spokesman added.