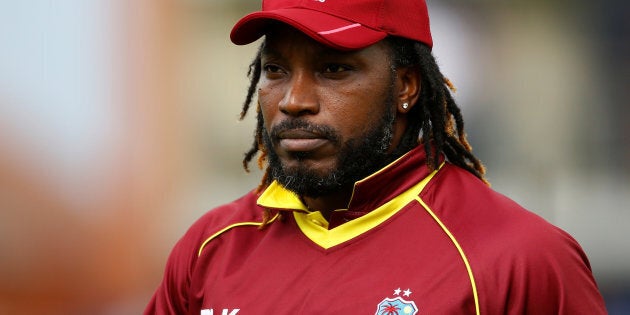 A massage therapist has told a jury of crying uncontrollably, like a child, after West Indies cricketer Chris Gayle exposed himself to her in a team change room.
"I saw the top half of Chris's penis, I apologise, and I thereafter shielded my view," said Leanne Russell in an overflowing courtroom in the NSW Supreme Court on Wednesday.
The now executive assistant at the AFL was giving evidence for Fairfax Media, which is being sued for defamation by Gayle over a series of articles published in January 2016.
The cricketer says Fairfax falsely claimed he intentionally exposed his genitals to, and indecently propositioned, Ms Russell in the West Indies dressing room during a Sydney training session at the 2015 World Cup.
Ms Russell said she had gone to the change room looking for a sandwich when she saw Gayle, wearing a shirt and a towel around his waist, and teammate Dwayne Smith standing behind him.
She said Gayle asked her what she was looking for and when she replied "a towel" he said: "Are you looking for this?"
"He pulled his towel out and down, I proceeded to shield my eyes and said 'no'," Ms Russell said.
She earlier told the jury that on the previous day when she was massaging Smith he sent her a text saying "sexy".
After the exposure, Ms Russell said she went up into the stand where "I was crying uncontrollably, I was crying like a child".
"I was very upset that a team I knew for so long would treat me that way."
She became "very cranky as well" as "I was sick of being treated this way".
In January 2016, she was horrified when she saw a live TV interview in which Gayle invited reporter Mel McLaughlin to have a drink with him and told her "Don't blush baby".
She contacted Fairfax journalist Chloe Saltau, who was married to a colleague.
She told Ms Saltau: "I am furious that women who work hard in this industry are made to feel this way, both on camera and within a change room and that people like Chris get to decide whether we are successful or not."
Her motive in speaking up was to get other women to realise "this happens all the time and nobody has the guts to speak out and they should".
Ms Russell told the jury she informed Gayle she was looking for a towel rather than for food as she had an eating disorder, anorexia.
Bruce McClintock SC, acting for Gayle, asked if she was on medication for her "psychiatric" condition.
She said she was on antidepressants, but had not, and did not, receive treatment from a psychiatrist.
His cross-examination continues.