Fats Domino, the legendary pianist and singer-songwriter, died Tuesday. He was 89.
Domino's family confirmed his death to WWL-TV news anchor Eric Paulsen, who shared the news on Wednesday morning. Domino's daughter told Paulsen that her father died peacefully surrounded by his family and friends.
The Jefferson Parish coroner's office in Louisiana confirmed Domino's death to HuffPost Wednesday morning.
"We are all touched by the outpouring of love and tribute for our father," Domino's children said in a statement to HuffPost. "He passed away peacefully at home surrounded by those he loved and those who loved him. His music reached across all boundaries and carried him to all corners of the world."
"We thank you for allowing us to grieve privately during this difficult time," they wrote, adding that funeral arrangements for their father are pending.
Domino, considered a pioneer of rock 'n' roll, was best known for his rendition of "Blueberry Hill" and for hits like "Ain't That a Shame" and "I'm Walkin'." Throughout his career, he sold more than 65 million records and had 37 Top 40 singles. In 1986, Domino was inducted into the Rock & Roll Hall of Fame, and received a Grammy Lifetime Achievement Award in 1987.
As the Rock & Roll Hall of Fame noted, Domino helped "put his native New Orleans on the map during the early rock and roll era." He was considered by Elvis Presley to be the real king of rock 'n' roll, with Presley once calling him "one of my influences from way back."
Following the news of his death, tributes from fans, including a few famous names, poured in on social media.
"You helped pave the way for new orleans piano players... see you on top of that blueberry hill in the sky," fellow New Orleans native Harry Connick Jr. wrote on Twitter.
Born into a musical family on Feb. 26, 1928, in New Orleans, Louisiana, Antoine "Fats" Domino was the youngest of eight siblings. He learned to play the piano as a young child, and by the age of 10 he was already contributing to New Orleans' vibrant music scene, performing in honky-tonks for pennies. It was at one of those honky-tonks ― the Hideaway Club, according to Rolling Stone ― where he earned the nickname "Fats" from bandleader Bill Diamond.
As noted on Domino's official website, Diamond chose the name "Fats" because it was "a symbol of importance and would be considered to be a classic."
In order to support his music, Domino quit school when he was 14 and took on odd jobs everywhere from an ice truck to a bed factory. It wasn't long before he became popular in the music scene alongside greats like Professor Longhair and Amos Milburn.
In the mid-'40s, Domino joined a band with trumpeter Dave Bartholomew, who helped arrange Domino's recording contract with Imperial Records. The two would go on to become writing partners, with Bartholomew working as Domino's producer. Together, they wrote and recorded Domino's first single, "The Fat Man," in 1949, which went on to sell a million copies ― the first rock 'n' roll single to do so.
"My first impression was a lasting impression," Bartholomew said of Domino in a 2010 interview with The Cleveland Plain Dealer. "He was a great singer. He was a great artist. And whatever he was doing, nobody could beat him."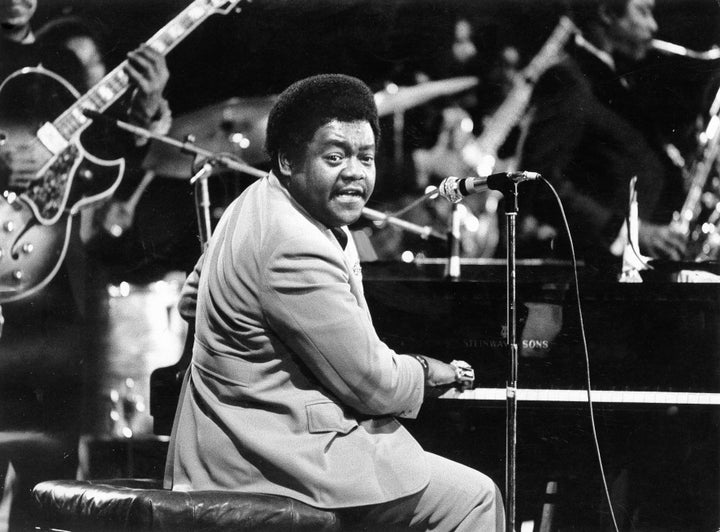 Domino's musical style was inspired by the likes of pianist Meade Lux Lewis and singer Louis Jordan. However, he had created a sound all his own that no doubt contributed to his massive success.
As rock 'n' roll music gained popularity in the mid-'50s, Domino already had a number of R&B hits under his belt. His first album, "Carry On Rockin'" was officially released in November 1955 and reissued as "Rock and Rollin' with Fats Domino" in 1956. That same year, Domino released a recording of "Blueberry Hill," (a 1940 song written by Vincent Rose, Al Lewis and Larry Stock), which would go on to become his biggest hit. The single held the No. 1 spot on the R&B chart for 11 weeks and reached No. 2 on the Top 40 chart.
Over the years, his music was covered by countless artists, including John Lennon, Norah Jones and Cheap Trick.
Throughout the 1960s, Domino released music regularly, and according to Rolling Stone, he played six to eight months of the year through the mid-'70s.
He also received The National Medal of Arts at The White House in 1998 from President Bill Clinton.
As a native of New Orleans, Domino was one of the thousands affected by Hurricane Katrina in 2005. The performer stayed in his home in the Lower Ninth Ward and was rescued by a Coast Guard helicopter.
Following the natural disaster, Domino released a benefit album in 2006, "Alive and Kickin'," to raise money for the Tipitina's Foundation. In 2009, a benefit concert meant to raise funds for rebuilding schools damaged by Katrina was organized in his name.
Domino was married to Rosemary Hall from 1948 until her death in 2008. Together, they had eight children.
His impact on music, especially rock 'n' roll and R&B, will continue to live on.
This article has been updated to include a statement from Domino's children.