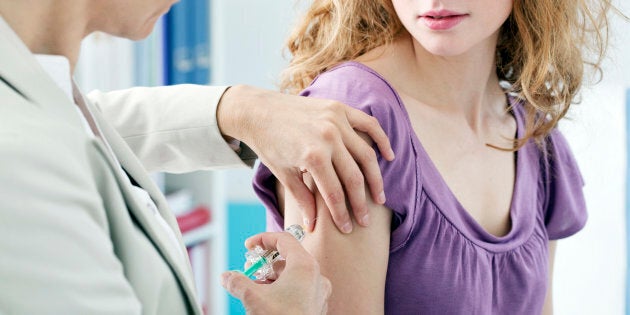 Fewer Australian women are expected to require surgical treatment to prevent cervical cancer after doctors switch to a new screening test for the virus that can cause the disease.
The new test for the human papillomavirus (HPV) will replace the traditional Pap smear on December 1 as part of an attempt to improve early detection of cervical cancer and save more women's lives.
Previous research has highlighted a host of benefits offered by the HPV test, including how it is significantly better at detecting potential pre-cancerous cells than the traditional Pap smear and will lower cervical cancer mortality rates by at least 20 per cent.
Researchers at the Cancer Council NSW are now also predicting the HPV test will lead to an overall drop in the need for women with pre-cancerous abnormalities to under go surgery, the most common treatment currently available to prevent cervical cancer developing.
They predict that women who have received the HPV vaccine under a national program that began in high schools in 2007 will have a 13 per cent lower risk of surgery after the switch is made to HPV tests.
The already small chances of them having complications arising from surgery which could cause them to deliver pre-term babies or infants with low birth weights are also predicted to fall.
However, unvaccinated women were found to face a four per cent higher chance of requiring surgery as well as a slightly increased risk of having pre-term babies and infants with low birth weights, compared to if no one in Australia had ever received the HPV vaccine.
Cancer Council NSW research director Professor Karen Canfell says there is no need for women who haven't received the HPV vaccine to worry, largely because most young women have had the chance to be immunised in the past decade.
"With women who are older than 38, the majority would be at lower risk of having treatment anyway just because the peak rates are actually in younger women," she told AAP.
"For unvaccinated women who are younger, they will get protection from the so-called herd immunity, so there will be no change for them.
"So the message we want to get out is that for everybody the new HPV testing program will be associated with not only an increase in protection against developing cervical cancer but it will also lead to fewer (surgical) treatments overall."
The findings by the Cancer Council researchers were published on Thursday in the International Journal of Cancer.
Under the new national cervical cancer screening program, the HPV test will eliminate the need for women to have a Pap smear every two years.
Women from the age of 25, instead of 18, will instead undergo a HPV test every five years.