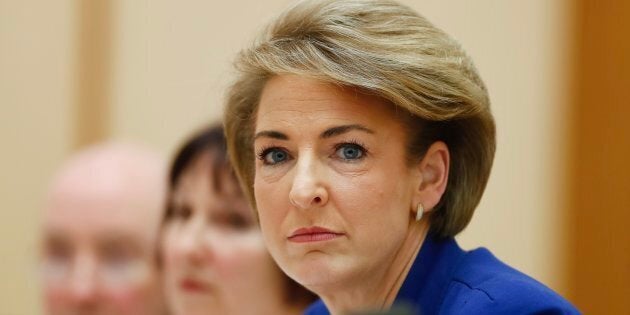 The Federal opposition has called for Workplace Relations Minister Michaelia Cash to resign on Wednesday night after she admitted her staff tipped off journalists ahead of raids by the Australian Federal Police (AFP) on the Australian Workers' Union (AWU) headquarters in Sydney and Melbourne.
The revelation has fuelled Labor and the union's claims that Tuesday's raids were a "political witch hunt" designed to smear the Opposition leader Bill Shorten.
During a Senate estimates hearing into education and employment legislation, Cash initially claimed on five separate occasions during questioning that her "office did not find out about the raids until after they were being conducted".
Despite this, the senator then returned from the committee's dinner break to confirm she had spoken to her staff and become aware that journalists had been told ahead of time by one particular worker in her office that the raids would be occurring -- which was so that television cameras could be set up outside AWU buildings according to a Buzzfeed Australia report.
"I have just been advised that without my knowledge one staff member in my office in the course of discussion with journalists that he'd received information that a raid may take place," she said.
"I am advised that this information came from a media source. I was not aware of it at the time and was not aware of it earlier today in Estimates. This took place without my knowledge and was not authorised by me.
"As previously indicated I was not notified by the raids until I watched them unfold on the television. My staff member has resigned."
In light of the new information and a denial from Cash that she had previously misled the parliament, Labor senator Don Farrell immediately took aim at Cash by calling for her resignation.
"Minister, you have to take full responsibility and you have to resign," he said during the Estimates hearing.
"There is a very simple procedure here with the Westminster system, Minister Cash, and you have to resign. You have to take responsibility for what has happened here."
Further to that, while under questioning from Labor's Murray Watt regarding how she came to be misinformed about the tip-off, Cash assured the hearing that she had not misled the parliament because she had answered previous questions based on the knowledge she had earlier in the day.
Afterwards, Opposition frontbencher Tony Burke also called for Cash's resignation in an address to parliament, saying she had provided false information that "defies credulity".
"There might be a member of Senator Cash's staff who has just resigned, but the wrong person has resigned," he said in the lower house.
"There needs to be a resignation here because it defies credulity that Senator Cash gave false information five times to the Senate and her staff said nothing..
"Is it just a coincidence that they waited until after it was too late after the news programs had finished at 7:30pm before this was revealed? Until after it was too late for motion to be moved in this Parliament and a debate to be commenced in this house?"
And in a separate statement released by Cash's Opposition counterpart Brendan O'Connor, calls for an independent inquiry were raised, with the Labor member saying "he integrity of the Government is shot".
"Senator Cash sensationally misled the Senate five time regarding her office tipping off the media prior to the AFP raids on the Australian Workers Union," he said.
"Senate Estimates have tonight exposed Minister Cash's office as responsible for informing the media of the raids. Instead of taking responsibility for this unacceptable interference in the investigation, Senator Cash has thrown her staffer under the bus to save her skin.
"This Government will stop at nothing to attack workers and their representatives."
The AFP raid for documents in Sydney and Melbourne relate to an investigation by the Registered Organisations Commission (ROC) covering the 2006 pre-politics period when Shorten led the AWU.
It is looking into whether union rules were transgressed by a $100,000 start up donation made to activist group GetUp! and by other donations to Labor candidates.
Cash's stunning admission on Wednesday night comes after Shorten took to the floor of parliament to label the raids as nothing more than a "grubby" move by a "grubby" Prime Minister Malcolm Turnbull looking to smear him.
"I am frankly appalled at the Turnbull government hitting a new low yesterday in their attempts to smear myself, Labor and unions," he told reporters earlier in Canberra.
The update also comes after it was revealed that AWU lawyers will look to challenge the AFP investigation and raids at Melbourne's federal court, according to an AAP report.
"The application will be to object to the validity of the investigation and the warrants," an AWU spokesperson said.