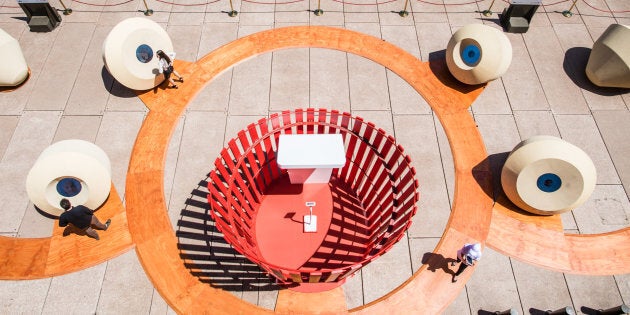 It's a free display taking place at the Sydney Opera House running until the 6th of November, designed to highlight diversity and equality through the stories of 200 women from around the world.
Put on by Westpac, The exhibition is an extension of storytelling project and book of the same name. It is founded on 200 interviews with women in different parts of the world and different circumstances, who are asked five fundamental questions on the theme -- 'what is most important to them'.
"Our intention wasn't to simply focus on successful and powerful women, but to highlight the diversity and authenticity of real women with real stories, and share each individual's experiences," Geoff Blackwell, co-author of '200 Women: who will change the way you see the world' said in a brand statement.
Australian women featured in the book include fashion designer Collette Dinnigan, food personality Maggie Beer, sociologist and academic Dr Susan Carland, author and social commentator Jane Caro and senior scientist Adele Green.
"Jane Caro for example, talks through her lifelong passion for advocating for feminism, and how she gets pleasure out of ordinary things. Similarly, Maggie Beer shared the intimate story of her difficult upbringing and how she came to get pleasure from the generosity of cooking. The responses of these women and all others simultaneously educated, humbled and inspired us," co-author Ruth Hobday said.
Here, a look at some of the imagery from the book and exhibition.