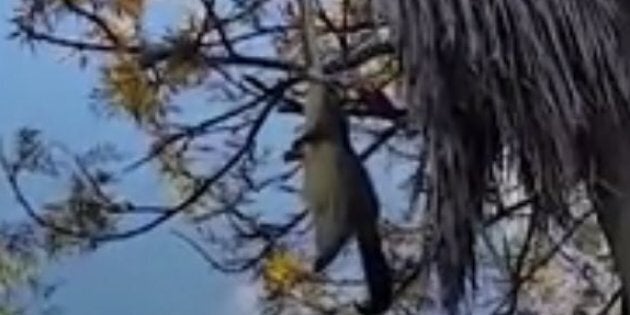 When the McMaster family noticed a possum suspended from a snake's fangs high above their heads, it's fair to say they were a little startled.
The family was at their Brisbane home on Sunday afternoon when they saw the snake hanging from a tree in their backyard.
"You don't see that every day."
McMaster also told Fairfax Media that he believes the snake was the same reptile he had been chasing in his backyard for a number of weeks.
"We have what I think is a carpet python in our backyard, it has been on the ground and in the tree," he said.
The McMaster family watched on as the snake slowly recoiled vertically into the tree, nearly dropping its prey in the process. Children's voices can be heard in the background calling out ' oh my god' in disbelief at the scene unfolding before them.
It really is the perfect example of mother nature at her rawest.