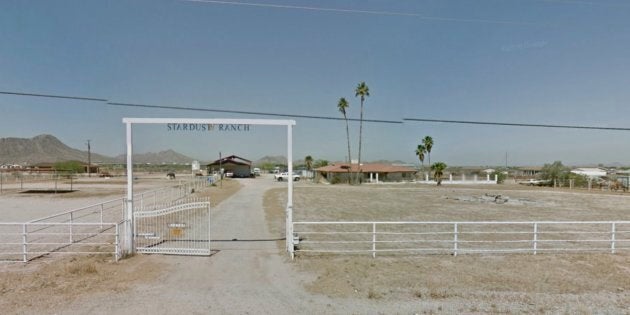 A 10-acre desert ranch is up for grabs in Arizona, with the unique property listed as featuring an in-ground swimming pool, a hay barn and a constant stream of extraterrestrials that travel through a backyard portal.
The Stardust Ranch in Rainbow Valley, which was featured on the Travel Channel program "Ghost Adventures" in 2016, is on the market for a cool $5 million (A$6.5 million) after its current owner said he grew tired of fighting off aliens' malevolent abductions.
"Almost immediately from the day we moved in, we began to have strange experiences," owner John Edmonds told Phoenix-station KPNX.
Over the last 20 years, Edmonds claims that he's been abducted and had medical experiments performed on him by the aliens — and even had to slay a few in Samurai sword fights.
As exciting as it all may sound, he said it has not been a positive experience for him as he purchased the property to take care of rescue horses. Instead, he claims the aliens have harmed not only him and his wife but the animals.
"I saved from the time I was 8 years old on to buy a horse ranch and when I buy a horse ranch I buy an alien Hellhole," he lamented in a 2015 interview posted to YouTube. "It's not like you can say well I screwed up, I'll just dump it and go get another one."
He's posted photos to Facebook that show off some of the physical injuries and scars that he claims aliens left him with. One such photo shows dents and scratches on his leg, which he described as "wounds" from a "battle with malevolent ET."
"This is why I want to move!" he wrote.
Another photo shows a Samurai sword lying across what he claims is alien blood on the ground. He wrote that the ET he sliced was able to get away because he didn't dislocate an antenna on its head, which apparently isn't easy to do.
His wife has also had her share of experiences, including one he said he witnessed first hand.
"They actually levitated her out of the bed in the master chamber and carried her into the parking lot and tried to draw her up into the craft," he told KPNX, without elaborating on what happened next.
In his 2015 interview, Edmonds said the uninvited ET guests come through the property's portal or "gate" almost like clockwork.
"We know that there is a gate on the back of the property, we know where it is, and about every 72 days it seems to open, and at that point, there are massive sightings out there," he said.
Those interested in potentially experiencing their own out-of-this-world encounters or those just looking for a five-bedroom, four-bathroom ranch featuring beautiful desert views can learn more about the listing here.