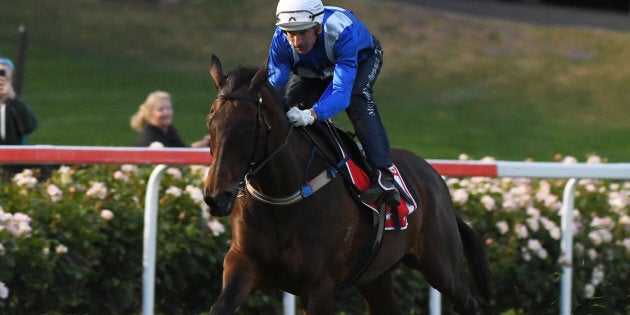 Winx, Australia's fastest racehorse -- and officially the world's fastest (on turf) -- runs in the Cox Plate this weekend. That's the race most serious racing people believe is Australia's greatest race.
Only one horse has won three Cox Plates. That was the great Kingstown Town, whose trio of wins in 1980-82 is legendary. Many thought the horse they called "The King" would never be matched. Then along came "The Queen".
Winx has won her last 21 races, and there are two reasons why the six-year-old mare is virtually unbeatable this weekend. We'll get to those in a second. But first, we want to show you the final strides of three of her best wins.
Let's start with the first win of her streak back in May 2015, when Winx was just another horse with potential who had won four of her first 10 starts. Look for her in blue. How much ground does she make up? And how quickly? Whoosh!
Winx won the first of her two Cox Plates with devastating ease in 2015. The official margin was four and three quarter lengths.
In the 2016 Cox Plate, the next best horse in Australia, Hartnell, took off early as if to say "catch me if you can". Winx caught him quicker than a cold. And beat him by a whopping eight lengths.
So there's a snapshot of Winx at her best. Why will she be even harder to beat this year?
Firstly, because her jockey Hugh Bowman just said "she's in better order" than she was before the last two Cox Plates. Yes, Winx is actually fitter and more sure of herself (racehorses thrive on confidence too) than ever before. Yikes.
As evidence, we invite you to watch the video of her most recent race, the Turnbull Stakes.
The second reason is more scientific. Whenever a champion horse comes along, we inevitably try to drill down into its physiology. We know that Phar Lap had a huge heart. We know that Black Caviar had an enormous stride length.
Winx's average stride is 6.53 metres, which is above average, but well below Black Caviar's 8.42. But Winx's trick is that she strides with greater frequency than other horses.
Seven News illustrated that well this week when they interviewed physicist Dr Graeme Putt, who has previously written papers on Black Caviar and is clearly into this stuff. Putt showed that Winx puts in 2.7 strides per second, compared to the average 2.3 for other horses.
"You can see her legs going very quickly, and it generates that speed to accelerate under pressure," her trainer Chris Waller told Seven.
How Winx gets the stamina to stride with greater frequency than other horses is the next level question no one has answered yet. Racing is a sport of mysteries and great uncertainty. But there's one thing you can (almost) bank on: all going well, a third straight Cox Plate for Winx this Saturday.