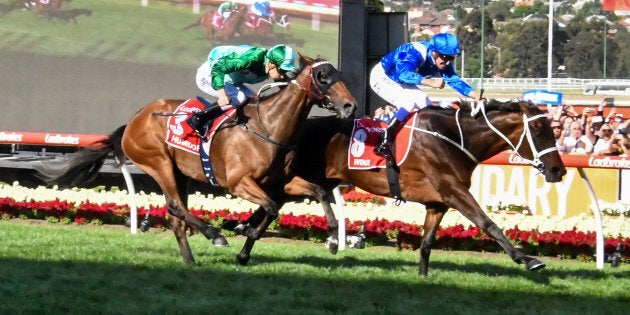 Winx was already one of the all-time greats of the Australian turf before winning the 2017 Cox Plate at Moonee Valley.
And what a win. Winx was three wide around the first turn, then had to take off on a wide run, well ahead of the home turn. The mighty mare covered more ground and expended a lot more energy than any other horse in the race. This Plate was definitely not handed to her on a plate. But she got there.
Runner-up Humidor made such a race of it. Boy, did he get close. The narrow winning margin wasn't flash like her four-and-three-quarter lengths in 2015 or eight lengths in 2016. But so what? All anyone will remember is those three Cox Plates -- which most racing purists regard as Australia's greatest race.
The six-year-old mare had won 21 straight races before this race, which was seven more than Phar Lap's famous streak of 14. Her streak is now 22.
She was already second behind triple Melbourne Cup winner Makybe Diva on the all-time Australian prizemoney list -- and now tops that list, with about $15.5 million.
But above all, Winx had already found her way into the nation's heart. That's the mark of a true champion. Find a person who knows nothing about horse racing and who never bets, and chances are they'll say "sure, I've heard of Winx".
So what do we say now of this incredible mare now that she's won three Cox Plates -- a feat only the great Kingston Town achieved from 1980-82?
We might borrow a line from the famous Cox Plate call of 1986, when champion Kiwi BoneCrusher won and the caller famously said Bonecrusher "races into equine immortality".
Winx is a sporting immortal, all right. Like Bradman, Phar Lap, Dawn Fraser and Cathy Freeman, her feats are now part of our national folklore. It's not just all those wins. It's the way she wins. Some horses are picky and choosy about which tracks they perform best on. Some do it in Sydney but not Melbourne -- or the other way around -- because horses races in opposite directions in our two major cities.
But Winx does it all, on all tracks and over nearly all distances. She is as versatile as she is brilliant. When she's on song, she absolutely brains them. When she has to dig in and fight -- as was the case this Saturday -- she does that too.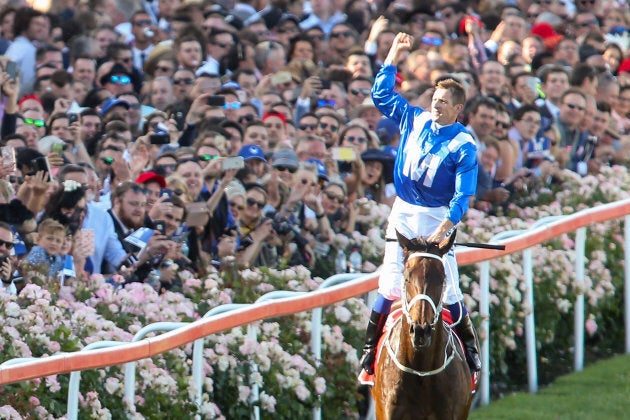 In sport, as in life, stability is a crucial factor behind success. The most talented team doesn't necessarily win football premierships each year, but the team which has key players in key positions week in week out, almost always does.
So it is with Winx's cool Sydney-based ex-Kiwi trainer Chris Waller, who has soaked up all the attention and given the public and media as big a bite as possible of his champ. Jockey Hugh Bowman, 37, has a veteran's calm judgement with a young man's enthusiasm.
"I was born the year KT Kingston Town won his first Cox Plate and to think that she's emulated him... we are in the presence of greatness and she will be recognised as one of the greatest horses to grace the Australian turf," Bowman said.
"I can't explain how much that means, and to all the supporters. I'm blessed to be in this position, simple as that."
Bowman said he could sense that Winx was peaking on her run as Humidor approached. But he said Winx could feel him coming and extended just enough to win "as she always does".
"Gee Humidor gave us a hell of a fight," Waller said.
"I've been prepared for it," the trainer said of the possibility that his horse would one day be beaten.
"You don't expect any horse to win 22 in a row. I'm pleased she's done it for the crowd and most important, for the horse."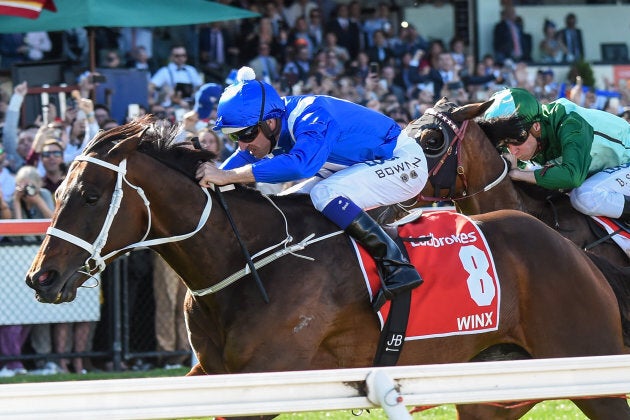 Winx's official margin over Humidor was half a length. Folkswood ran third at just his second Australian start.
Next up for Winx is a lovely long spell in a paddock which we think it's safe to assume will have delicious grass. Where she goes next in her racing career is uncertain. Will she try to win four Cox Plates? These are questions for tomorrow. The question for today is effectively a rhetorical one: how good is this horse?