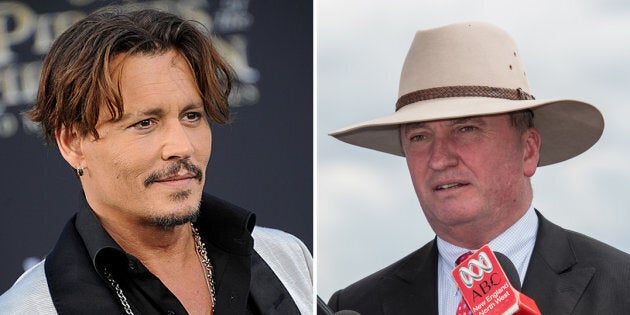 The election of Australia's now former Deputy Prime Minister, Joyce, was found to be invalid on Friday after the High Court of Australia deemed him to be a New Zealand citizen and therefore unable to represent the Coalition Government under Section 44 of the Constitution.
If you've not been following this ongoing saga, Joyce has been at the forefront of a long-running feud with Depp and Heard after the pair smuggled their terriers, Pistol and Boo, into Australia on a private jet.
While the tweets were aimed at Joyce's links to New Zealand, they also seemed to refer to a press conference given by the former Deputy Prime Minister at the beginning of this running battle.
"If we start letting movie stars, even though they've been the sexiest man alive twice, to come into our nation, then why don't we just break the laws for everybody?" he said at the time.
"It's time that Pistol and Boo buggered off back to the United States."
And while both Depp and Heard are yet to comment since the High Court ruling on Friday, it's probably a safe bet that a snide remark might just be on its way soon.