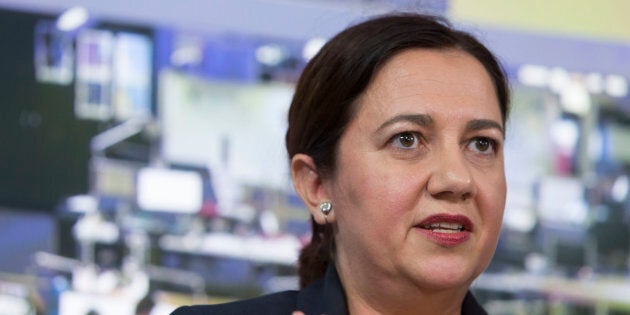 Queenslanders are set to head to the polls three months early, with Premier Annastacia Palaszczuk calling a snap state election.
Palaszczuk on Sunday entered Government House to issue the writs for the election, which will be held on November 25.
The state election was previously due to be held in January.
Palaszczuk told reporters she was calling the election to give business and industry the certainty they needed ahead of 2018.
She said since taking office she had created more than 100,000 jobs and secured the lowest unemployment rate in four years.
"My government is proving there is a better way," Palaszczuk said.
"My government is putting Queenslanders first. I'm asking Queenslanders for their support so we can continue to job we've started together."
At one point in her speech, the Premier was interrupted by protesters holding banners against the proposed Adani coal mine.
"We will back renewable energy," Palaszczuk said after the protesters were removed from stage.
"People in Queensland have a right to protest ... and I respect their right to protest."
Labor and the LNP now have 41 seats each after after the ALP disendorsed the Member for Pumicestone, Rick Williams. It is unlikely State Parliament will sit again until mid-November.
The surprise move comes after Palaszczuk on Friday directed the ALP to disendorse the Member for Pumicestone, Rick Williams, over a complaint that he threatened a local constituent.
Palaszczuk created history in 2015 when she defeated Campbell Newman's LNP government after just one term.