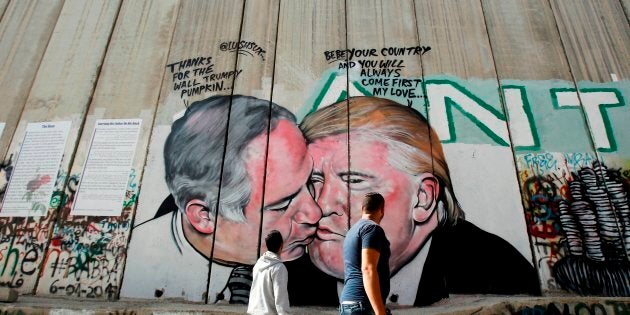 BETHLEHEM, West Bank (Reuters) - Another Donald Trump mural believed to be the work of Australian graffiti artist Lushsux has popped up on Israel's barrier in the occupied West Bank, this time depicting the U.S. president sharing a kiss with Israeli Prime Minister Benjamin Netanyahu.
His face hidden by a headdress, a man who identified himself as Lushsux said against the backdrop of a cement section of the Israeli wall in Bethlehem that he hoped his painting would draw attention to Palestinians stuck in "an indoor prison".
The Bethlehem wall has become a showcase of protest art voicing Palestinians' fears that Israel's West Bank fence-and-concrete barrier is a land grab that may deny them a state. Israelis deem the project a bulwark against Palestinian attack.
"The wall is a message in itself," the man, who said he painted the mural overnight, told Reuters. "I don't need to write 'Free Palestine' or something like that, something really direct ... that people will ignore.
"I just paint what I usually paint and maybe people will start looking at the background and looking at the razor wire and looking at people stuck in here, and maybe that'll work better," he said in Australian-accented English.
Murals on the barrier believed to be the work of Lushsux include one showing Trump kissing an Israeli watchtower and another depicting him placing his hand on the barrier and thinking about building a similar wall on the U.S. border with Mexico.
This isn't the first politically-charged Lushsux work to make headlines.
In August last year the artist depicted then-presidential candidate Hillary Clinton in a bikini on the wall of a shop in Footscray, Melbourne. When the Maribyrnong council determined that the image was too offensive, Lushsux changed the illustration to show Clinton in a niqab.
​​He's painted multiple murals of politicians Clinton, Trump and Vladimir Putin, but also celebrities Taylor Swift, Kanye West and Kim Kardashian.
The artist also infamously painted a naked Kim Kardashian onto a Sydney wall -- which was later removed by the City of Sydney council.
Prime Minister Malcolm Turnbull is due to arrive in Israel to meet with Netanyahu and other Israeli officials, and to mark the 100th anniversary of the Battle of Beersheba.
Writing by Jeffrey Heller; Editing by Catherine Evans.