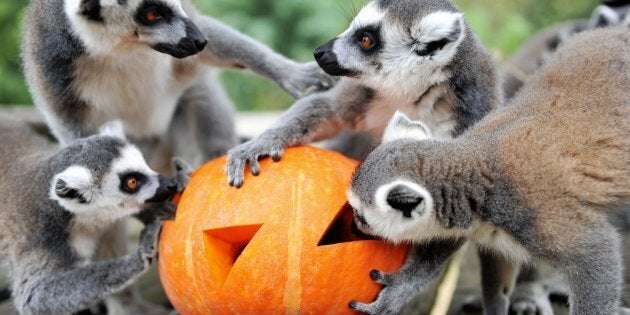 There's been a lot of bad lemur news lately.
Just last week a research paper was published with the bleak finding that climate change was putting the greater bamboo lemur at risk in Madagascar. This was because the greater bamboo lemur needs bamboo -- and the months where the climate is too dry to make the bamboo nutrient-rich are getting longer every year.
Another lemur species, the mouse lemur, is decreasing in number due to deforestation.
And in May of this year, it was found that lemurs are the world's most endangered mammal.
Thankfully, these issues received some much-needed spotlight on October 27 with World Lemur Day, and what better way to publicly highlight the plight of these cute creatures then with photos and video?
Here are some lemurs chilling at the Melbourne Zoo:
And an important photo of a bunch of ring-tailed lemurs sunbathing to start the day:
And there's this video compilation of pet lemurs doing things like holding tiny paper umbrellas over their head:
According to the Lemur Conservation Network, the aim of World Lemur Day is to "raise awareness for lemur conservation, and tell the world how amazing lemurs and Madagascar are".
The day is in it's fourth year.