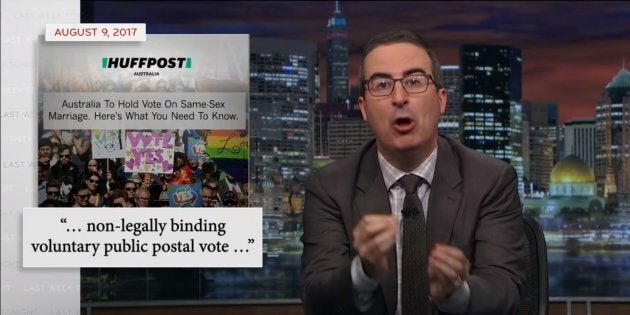 Australia's same-sex marriage postal survey has reached peak comic absurdity.
Last Week Tonight host John Oliver has taken off from lampooning Donald Trump to rip into Australia's "ultimately pointless" postal survey.
And the TV show host pretty much summed up how some are feeling about the debate -- comically terrible imitation of Kevin Andrews included.
Fresh from trashing Trump's weak response to the nation's opioid crisis, Oliver began: "If any of that made you feel sad about our state of democracy, spare a thought for Australia. Not in fact the birthplace of the Outback Steakhouse but very much the Outback Steakhouse of countries."
You can watch the full clip here:
He described our politicians' decision to hold a postal vote as "an odd thing to do, because polls already exist showing around two-thirds of Australians support it, so Parliament could simply pass it into law", before going on to label the $122 million non-binding voluntary poll "the weirdest waste of Australian money since every Baz Luhrmann movie ever made".
John Oliver then went on to roast some of the "ridiculous" arguments made by 'no' campaigners, including a strange comparison made by Kevin Andrews between his cycling buddies and same-sex relationships -- both of which, Andrews said, "aren't marriage".
Putting on a bogan accent, the British-born comic gave a biting parody of the Liberal MP: "You know, we do f**k. We finish cycling, we slowly peel our cycling clothes off by the side of a bucolic country road and we f**ck, but that's not marriage -- that's f**king your cycling mates. That's different, your cycling mates."
Next in the line of fire was Sophie York, a 'no' campaign activist for Marriage Alliance who featured on an ABC news segment proposing same-sex unions should not be called "marriage", instead suggesting they be called "garriage".
"Garriage?" Oliver quipped incredulously.
"That is a stupid word. Except in the very rare case of a wedding between two men named Garry, in which case obviously they should be getting 'Garried'."
The TV host also took the opportunity to tell Mark Poidevin, one half of a same-sex couple who appeared on an ABC 7.30 report to oppose legalising same-sex marriage, that he "can do so much better than (partner Ben Rogers)".
Poidevin had admitted he'd initially supported gay marriage and had actually proposed to Rogers five years earlier, before deciding they didn't want to get married.
"You deserve someone as committed to you as you are to them," Oliver held forth, with convincing conviction.
"Listen to me Mark, this relationship is going no where. Don't stay together for the dog -- he knows you're unhappy too."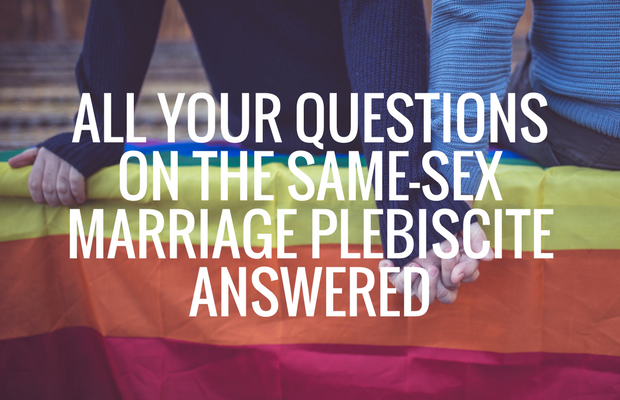 Last Week Tonight showed a 7News bulletin of the alleged attacker, Astro Labe, saying the action had nothing to do with Abbott's opposition to same-sex marriage and he was simply thinking: "There's Tony Abbott, I'm going to headbutt him".
"I am in no way condoning Tony Abbott being attacked," Oliver said.
"What I will say is, thinking to yourself, 'There's Tony Abbott, I'm going to headbutt him' is entirely natural. It's an automatic human response. It's like: 'There's a puppy, I'm going to pet it' or 'There's Sean Penn, I'm not going to see that movie'."
But biting take-downs aside, John Oliver is here to remind us the same-sex marriage postal vote is a "dispiriting, ultimately pointless process".
It has only two possible redeeming qualities, according to Oliver: our Parliament legalising same-sex marriage and "that Mark heeds my words and puts himself out there and meets someone who deserves him and finds someone who would do anything for love".