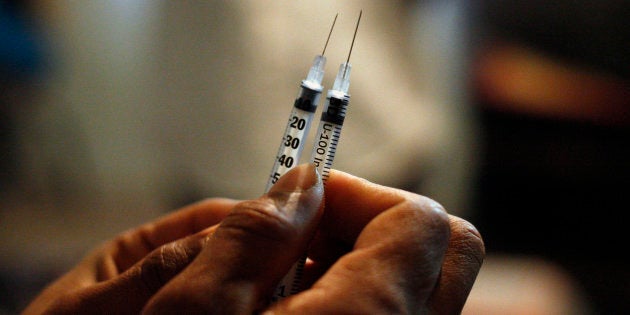 CANBERRA -- For Victorian Premier Daniel Andrews, the maths on heroin overdoses are brutal, but clear.
Thirty-four deaths in inner-city Melbourne last year alone versus zero deaths associated with Sydney's Kings Cross safe injecting room in more than 15 years of operation.
This is Aaron. His mum Cherie says he would still be alive today if he had access to a supervised injecting room. And I believe her. pic.twitter.com/cW1znYxPLc

— Daniel Andrews (@DanielAndrewsMP) October 30, 2017
"We have the highest heroin overdose death toll since 2000. Circumstances are different," Andrews told reporters on Tuesday.
"And to stubbornly continue with a policy that's just not working, then that's the wrong thing to do."
Andrews made the announcement in Richmond, which will be the site of Australia's second medically supervised injecting space.
The announcement occurred just as an ambulance, according to reporters on the scene, drove off with a patient having a suspected drug overdose.
The state government will this week introduce a bill to grant a licence for the provision of supervised injecting services at the North Richmond Community Health Centre. It likely Labor will need support from the crossbench to pass the legislation. If the two-year trial is successful, there will be a review and an option to extend the room's operation for a further three years.
Andrews was convinced to shift his position by experts and family members of drug addicts.
"This is a change in policy. There's no question about that. But it's a change that is very much needed," the Premier said.
"When you listen to those stories, when you listen to the experts, you can't help but ask yourself what if it was my son or my daughter? What if it was someone that I cared about? What if we could do more and do something different to save lives?"
It will be modelled on the injecting room in Kings Cross, a success story since 2001. "Over some 15 years, a million injections, 6,000 serious overdoses, not one death. Not one," Andrews said.
And he has begun making the pitch to crossbenchers and the Opposition that this proposal for a single facility is about saving lives.
"I make this simple point. There can be no rehabilitation if you are dead," he said. "If you are lying in a laneway in a gutter with a syringe that you got through the needle and syringe exchange program just here, there can be no pathway to treatment for you."
"If, however, you can be supervised, if you can get, in the event you need the urgent health care that saves lives, that surely -- on any measure -- is a better outcome than seeing that death toll go up and up, as it certainly will if we don't make this policy change."