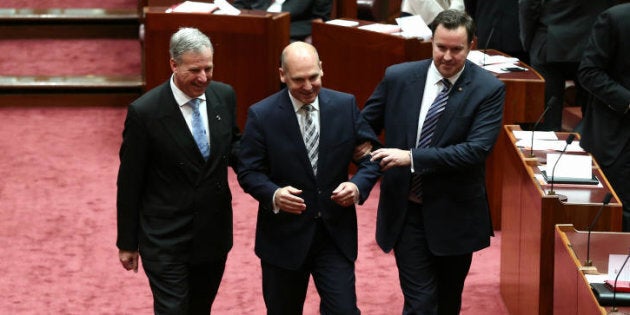 CANBERRA -- The amusing Westminster tradition of "dragging" the newly elected senate president to the chair now acts as ironic book-end for the political career of Stephen Parry, who on Wednesday announced he will resign from Parliament.
And so the drip feed of citizenship dramas in federal parliament drips on. Faith and trust in politics manages to further dissipate, just when we thought this farcical episode had drawn to a close. Australia may now be heading into "constitutional crisis" territory, according to Greens Leader Richard Di Natale.
What was he thinking? For months he sat and watched the "Citizenship 7" cases unfold before him in the senate. Why all this time did he say nothing?
From the president's chair, he oversaw six other senators grapple with their citizenship issues for months, with two cases turning into immediate resignations. He signed the instruments that referred the cases to the High Court.
This week he sought confirmation from the British authorities. When confirmation came he promptly announced his resignation because the "High Court has made it abundantly clear what action is required".
But the problem with the citizenship eight goes beyond a constitutional breach and a debate over law. More cases are expected. MPs appear not be forthcoming. And so the digging goes on and with it the public's faith in the body politic continues to be eroded.
Calls for a full audit are steam rolling, including among backbenchers, but the official line from the Turnbull Government is that such a move would be a "witch hunt", according to Attorney-General George Brandis. And acting prime minister Julie Bishop says it would be more appropriate to continue dealing with matters on a "case by case" basis.
To this point the Government is backed by Labor, which is insisting that personal responsibility is the way.
"The simplest way of addressing this is for every member of parliament and candidate to follow the rules," said acting leader Tanya Plibersek.
The free advice is there is no way to follow all lines of ancestry. It is too much of an ask.
This continual rejection does not pass any reasonable "pub test". The sooner that MPs wake up and realise that public faith in the very institution of parliament is being shaken, the better.
Section 44 might not fit with modern, multicultural Australia, but for now -- after the High Court's black letter interpretation of the Constitution -- that is what we're left with.
At the moment it looks like mates saving mates in trouble. Remember, the Turnbull Government enjoys but a razor-thin majority.
The High Court made it abundantly clear in its Friday ruling that aspiring politicians nominating for election need to read the paper work, check with parents (and grandparents) and don't tick boxes if not sure.
The "mates" may or may not have done due diligence and the public needs to know. It isn't only breaches of the Constitution that are happening here, it is a breach of faith.
This has long been a leadership matter and the longer it is actively allowed to drag on, the more damaging it is for our leaders and politics as a whole.
Or are there really that many new dual citizenship cases to uncover?