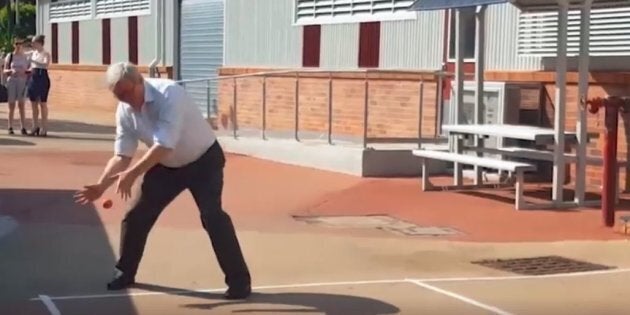 Considering recent history, including his own, it was a risky move. But to give credit where credit is due, Rudd -- while not exactly showering himself with glory, and sneaking in a couple of borderline illegal shots -- has put in what must be the greatest Prime Ministerial sporting exhibition since Bob Hawke necked a goblet of mid-strength at the New Year's test match.
The former PM took to the handball squares at Kelvin Grove school in Brisbane on Monday, taking on some Year 12 students. The video comes to us courtesy of the Handball Memes Facebook page, and allows us to take a deep dive into Rudd's handball skills.
Now, first off, it's important to note that every schoolyard across the nation has its own set of house rules. We don't know exactly what rulebook Kelvin Grove plays from, but it appears they don't play the traditional ace-king-queen-dunce rotation system. Their elimination process seems unclear, as Rudd gets beaten several times but seems to spend almost the entire game in the ace serving square. They also seem to not use the rule enforced in my school that you needed to have both feet inside your own square when serving the ball, with Rudd breaking that rule without penalty with his very first serve of the game.
He's got an unorthodox serving style, this former PM, holding the ball like a cricket spin bowler and even giving it a quick shine on his trousers before unleashing a powerful, low slap across the square. Rudd shows good agility and flexibility for a man 40 years older than his opponents, bending down to reach low shots and stretching to catch ones smacked deep into the back of his square.
Rudd also has a few tricks of his own, most notably slapping a hard, low one into his opponent's square -- which even seemed to have a bit of backspin on it, judging from the recipient's reaction -- to eliminate that kid, who seemed to be in disbelief that he'd been knocked out by the nation's 26th and 28th PM.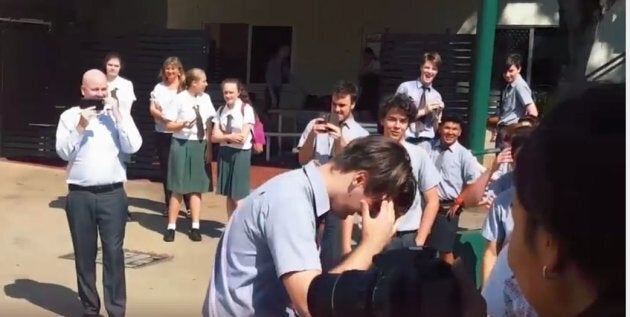 But for all Rudd's good points, there are a few lowlights. His controversial serves are one, but it's the apparent cupping of the ball as he attempts to reel in a powerful shot into the back of his square which gave us most cause for concern. In most playgrounds, cupping or curling your hand around the ball in playing a shot is a definite no-no, with the flat open hand the only permitted method of striking.
We did a quick straw poll on Twitter, and many agreed, with others pointing out that his toe on the line would also be illegal.
You can make up your own mind.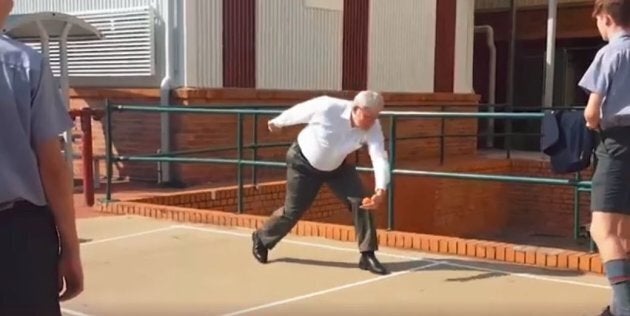 But on the whole, Rudd's game isn't bad. No word on whether he'd been practising for this high school exhibition, or if he's just a gifted amateur, but it could have been far worse. Not a bad effort from the 60-year-old man who would be far more accustomed to handshakes than handball at this stage in his life.