If you love caramel and bananas, then the sound of a banoffee pie will definitely float your boat.
With a thick crumbled biscuit and butter base (the best kind), a banoffee pie is packed with layers of glossy, gooey caramel (toffee), fluffy vanilla cream and sliced bananas.
If this is making you salivate like us, but you're thinking that surely this dessert is hard to make, then you'll be pleased to hear this banoffee pie is easy to whip up.
To make this banoffee pie, all you need is some sweetened condensed milk, biscuits, cream, butter, sugar and bananas, and a bit of time for the caramel prep work. Let's get to it.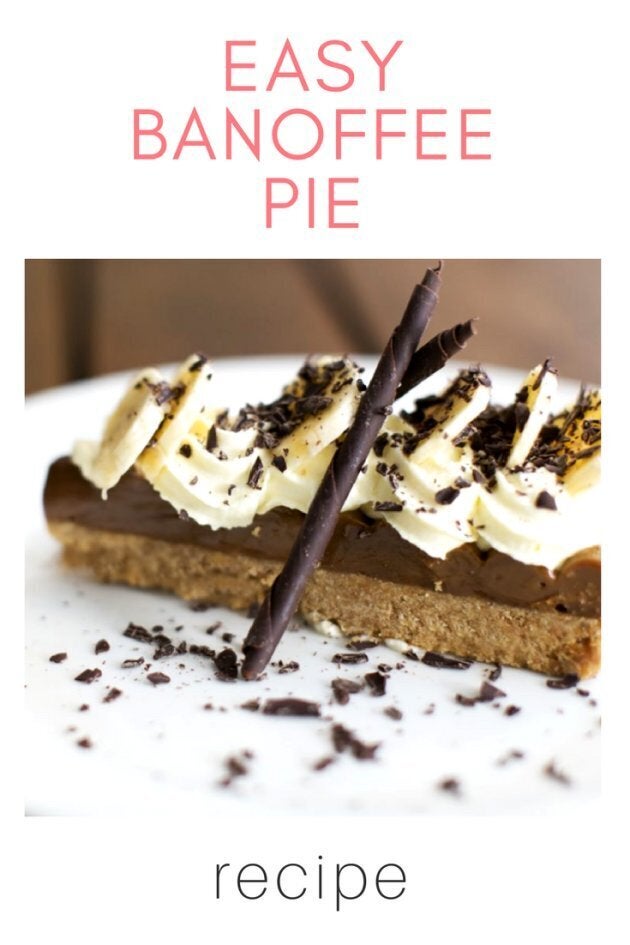 INGREDIENTS
4 x 395g tins sweetened condensed milk
300g unsalted butter, chopped
750g digestive biscuits
50g hazelnut praline paste (optional)
½ vanilla bean, split and seeds removed
600ml thickened cream
75g castor sugar
4 bananas, sliced
200g 70 percent dark chocolate, curled
METHOD
Place tins of condensed milk in a large saucepan, cover with water and bring to the boil. Reduce the heat and simmer on a very low heat for five hours, making sure to keep tins covered with water. Remove the tins and cool in fridge overnight.
Meanwhile, melt the butter either in a small saucepan over low heat or in a bowl in a microwave. Add hazelnut praline paste (if using) and mix to combine.
Blitz biscuits in a food processor until finely crumbed. Add melted butter and mix to combine.
Add biscuit crumb to a loose-based flan tin and press mixture into the base of the tin until it is nice and compact. Place tin in the freezer for two hours to firm up.
Use a piping bag and thick nozzle (size 20) to pipe caramel over biscuit base, piping in a circle, starting from the centre. (Or spoon caramel over the biscuit base if you don't have a piping bag).
Add vanilla seeds and sugar to the cream and whisk until stiff peaks form.
Remove banoffee torta from the tin and transfer to serving plate. Pipe or spread the cream over the caramel, then decorate with banana slices and chocolate swirls.