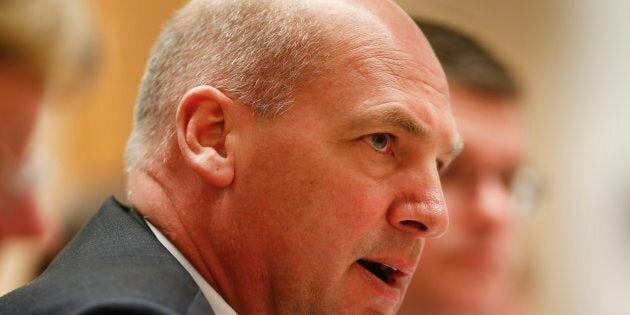 Liberal senator and Senate president Stephen Parry will resign from the Parliament after it was confirmed he holds British citizenship, making him the sixth federal MP to be struck out in the ever-growing scandal around section 44 of the constitution.
Parry advised colleagues on Tuesday that he was checking to whether he had inherited British citizenship from his father, who was born in the United Kingdom. Parry said he had intentionally waited until the decision of the High Court in the cases of seven of his colleagues -- the so-called 'Citizenship Seven', of Nick Xenophon, Larissa Waters, Scott Ludlam, Malcolm Roberts, Fiona Nash, Matt Canavan and Barnaby Joyce -- last Friday.
On Wednesday, Parry announced the U.K. Home Office had confirmed he indeed held British citizenship, and therefore he would be resigning from the parliament effective immediately, forgoing the option of having his case referred to the High Court.
"Now that the High Court's recent ruling has given absolute clarity to the meaning and application of Section 44 (1) and as required by Section 17 of the Constitution, I will submit my resignation as both President of the Senate and as a Senator for Tasmania to His Excellency the Governor-General tomorrow," Parry said in his letter.
Parry is the third member of the Coalition, and the first Liberal, to be rubbed out by section 44, after Nationals Nash and Joyce were ruled out last week. He will likely be replaced by Liberal colleague Richard Colbeck, a former senator himself, who was next on the ballot paper in Tasmania at the last election. The circumstances mean that the government's numbers will not be affected in the Senate.
On Tuesday, acting Labor leader Tanya Plibersek savaged Parry for waiting so long to reveal his citizenship issues, months after Greens pair Scott Ludlam and Larissa Waters first kicked off the controversy when they immediately resigned from the Senate after discovering their New Zealand and Canadian links.
"It's extraordinary that the President of the Senate -- who oversaw several High Court referrals -- did not reflect on his own eligibility until just days ago," Plibersek said.
"Malcolm Turnbull famously said that a failure to resolve eligibility issues showed "incredible sloppiness" and "extraordinary negligence. Mr Turnbull has shown terrible judgement throughout this sorry citizenship saga.
"Malcolm Turnbull must tell Australians whether he knew there were doubts over Senator Parry's eligibility. This revelation now raises questions about the Liberal Party's negligence when it comes to proper vetting processes."
Prime Minister Malcolm Turnbull is still in Israel for commemorations around the anniversary of the Battle of Beersheba, due to return to Australia in coming days, and will face renewed calls for an audit of all MPs in the wake of the growing constitutional crisis.
Greens leader Richard Di Natale has called for all parliamentarians to be assessed and have their citizenship confirmed, but neither major party has backed his push.
"We need to just end this, we need to end what's going on here. The way to do it is to have a comprehensive audit of the status of all MPs just to ensure if there is anybody else there who is a dual citizen, we deal with it," he told 7.30 on Tuesday.
"You'd only need a small number of lawyers -- a senior bureaucrat could knock it over inside a month and we'd know very clearly who was eligible to stand."