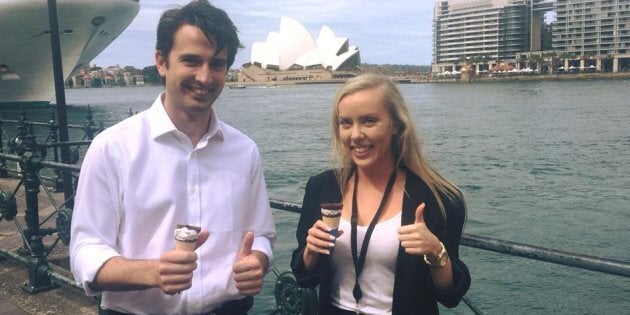 Members of the Liberal party, including a rookie federal MP, are being roasted online after making light of a boycott of Streets ice creams, which unions say is looking to cut worker pay by almost 50 percent.
Unilever disputes the pay cut figures provided by the AMWU.
"The suggestion by the union that there is a proposal to reduce any employee's take-home pay by 46 percent has no basis in fact," the company told HuffPost Australia in August.
"The facts are that the costs of production at the Minto site remain high and not competitive when compared with other ice cream manufacturers. That is not a sustainable position."
Unilever spokesman Anthony Toovey, told Fairfax this week that "the current situation is just not sustainable and needs to be addressed."
The AMWU last week launched a campaign calling for a boycott of Streets products this summer. In recent days, however, a small pushback against the boycott has begun in Liberal circles -- which has been shot down with ruthless efficiency.
Jason Falinski, the new Member for Mackellar, posted this bizarre boomeranging video over the weekend, of him slowly tucking into a Bubble O'Bill. He asked, "What's wrong with a company that employs Oz, pays tax & makes a profit?", also calling the Streets company "great". In a follow-up tweet, he asked:
His contribution to the Streets debate was swiftly slapped down, as others reminded him of the facts of the case, and generally took the opportunity to lay into the rookie MP.
Even Falinski's Liberal colleague Tim Wilson took a gentle dig:
But even after the relentless roasting Falinski received, more Liberals jumped on the idea to oppose the boycott. The NSW branch of the Young Liberals made a visit to Sydney's Circular Quay on Wednesday, taking a cheesy thumbs-up photo with some hastily purchased Cornettos.
As of time of writing, nearly 2000 comments had rolled in on the photo, mostly negative. Here's a selection of some of the comments appropriate for publication (because there are heaps which aren't):
"Your privilege is showing, so bright and shiny. It's blinding. Which makes you ignorant to the plight of others."
"I'm so confused - You support Australian jobs, but you don't support workers earning a living wage?"
"Ignorant and out of touch."
"Let's start by decreasing the liberals paychecks by 46%. Let's see if you feeling sticking ya thumbs up then"
"Probably the worst piece of social media PR in a long while."
"No-one's disputing Aussie jobs and investment. This is about cutting people's wages."
"Celebrating the fact that Australian workers are facing a 46% pay cut"
The AMWU will continue its boycott campaign through the summer, and it appears that online trolling of their own will be a key plank of the strategy. Streets last week announced its Golden Gaytime Sanga, an ice cream sandwich version of the popular treat, which attracted much media acclaim.
But the official launch of the product, with a Steve Jobs-style video presentation on Facebook on Thursday, didn't go exactly the way Streets would have hoped, with near-unanimous criticism of the company in the comments on the post. Take a look: