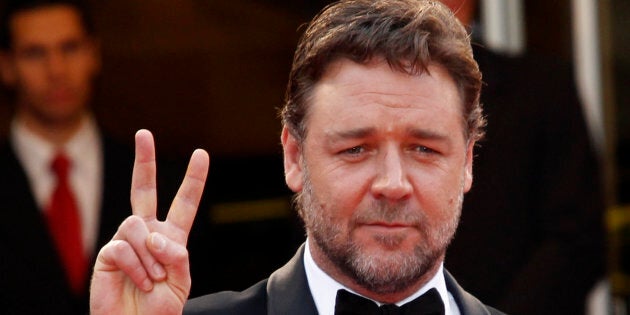 Russell Crowe has offered to take and find work for six men held by Australia on Manus Island, as the Oscar winner labels the escalating crisis as "a nation's shame."
Crowe's offer to house the group comes as New Zealand Prime Minister Jacinda Arden said she would raise the issue with Malcolm Turnbull, as hundreds of men refuse to leave the detention centre after it was closed earlier this week.
Asylum seekers say they fear for the safety if they leave the centre.
"Manus. A Nation's shame," the Gladiator star said on Twitter.
"Lives held in limbo. Lives lived in fear & despair. It's fucking disgraceful."
Manus. A Nations shame. Lives held in limbo . Lives lived in fear & despair . It's fucking disgraceful

— Russell Crowe (@russellcrowe) November 1, 2017
"I've thought about this. I believe I could house and find jobs for 6. I'm sure there'd be other Australians who would do the same."
The actor's statement comes as newly minted New Zealand PM Jacinda Ardern said she would raise the closure of detention centre with Malcolm Turnbull when the leaders meet for the first time over the weekend.
"I am looking forward... to having a conversation directly with the Prime Minister on Sunday about some of those issues - and New Zealand's role and view on Manus Island in particular," she said on Thursday.
I'd just say to the advocates here who are telling people not to move, to resist moving centres; that they're not doing those people any favours. Peter Dutton
Former New Zealand Prime Minister John Key first made an offer to resettle 150 refugees held in Australian detention centres. His successor Bill english didn't push it
Ardern confirmed the offer is still live.
Australia's Immigration Minister Peter Dutton said there were deals already on the table.
"We've got a deal with the United States to move 1,200 people," he said.
"I want to close Manus as quickly as possible, but it doesn't help when you've got the Greens and others who are telling people not to engage, not to move. It makes a very difficult situation even worse."
Asylum seeker Behrouz Boochani described a deal with New Zealand as the group's best chance.
"Australia blocking but has no right to say no," he said.
"You can't keep political hostages."
As the stalemate wears on, refugees and asylum-seekers have resorted to storing water in garbage bins and building makeshift rain catchment systems, the UN High Commissioner for Refugees said.
The agency said the last food ration was delivered on 29 October and was only sufficient for less than two days, while new accomodations near the Manus Capital, Lorengau, are not yet finished.
NZ is our best chance, standing by offer to take refugees. Australia blocking but has no right to say no. You can't keep political hostages.

— Behrouz Boochani (@BehrouzBoochani) November 2, 2017
"With the departure of service providers and Australian Border Force, medical support and security services are no longer available at the 'Regional Processing Centre'," the group said.
The urged Australia to end the unfolding emergency.
"Australia remains responsible for the well-being of all those moved to Papua New Guinea until adequate, long-term solutions outside the country are found," the UNHCR said.
"UNHCR urges Australia to take responsibility and provide protection and safety to these vulnerable human beings."