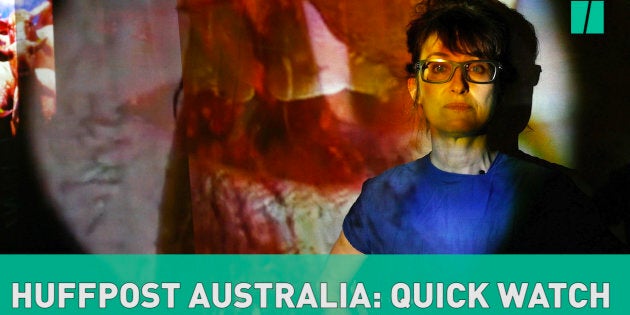 I'm sitting on a cushion on the floor of renowned Swiss video artists Pipilotti Rist's apartment.
It's not her actual apartment, but it is her design, custom built for her retrospective show 'Sip My Ocean', that will run over the summer at the Museum of Contemporary Art in Sydney's Circular Quay
It is the largest collection of her work ever to be presented in Australia.
Pipilotti talks about her 'Sip My Ocean' exhibit in Sydney​
Bathed in the light of surreal video projections featuring floral fields, crashing waves and intimate closeups of the human body, all meticulously screened across the walls, furniture, book shelves, even a sumptuous double bed, we talk about how her attitudes towards light and colour have shaped her work.
"There are a lot of black and white, serious dark works which I appreciate a lot, but for my installations I have consciously chosen to stand up and not be afraid of colour," she told HuffPost Australia.
Pixel Forrest (2016), a highlight of the exhibition produced in collaboration with Kaori Kuwabara, imagines thousands of pixels exploding out of a TV screen into the room.
"Even though it looks chaotic, every pixel knows exactly where in the image it is, so I can literally play images in a three-dimensional way."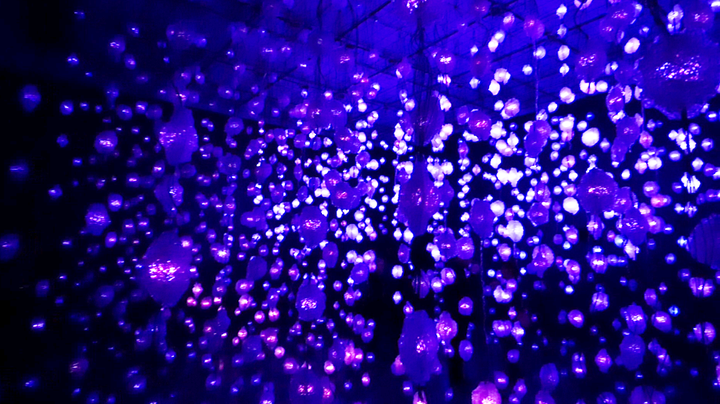 Also keep an eye out for Rist's 1997 work 'Ever Is Over All', portraying a woman using a long stemmed flower to smash the window of a parked car, and believed by many to have inspired a strikingly similar scene in Beyoncé's 'Hold Up' video (where a baseball bat is used in place of the flower).
Scene from 'Hold Up' (2016) by Beyoncé
Scene from 'Ever Is Over All' (1997) by Pipilotti Rist
​​​​Rist's work has been labelled as feminist by some art critics, although she draws a distinction between her public work and private views.
"I'm only a feminist if an asshole is asking me, in my private life I don't have to be a feminist," she said.
"I hope when assholes come to my show they are converted to being nice people."
Pipilotti Rist: Sip my Ocean runs 1 November 2017 – 18 February 2018 at the Museum of Contemporary Art, Sydney.