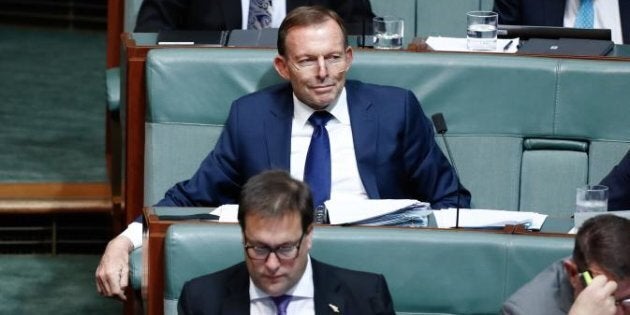 CANBERRA -- A victory can be found in any defeat, and former prime minister Tony Abbott is already proclaiming the basis of a new conservative activist movement in the event a "yes" vote prevails in the same-sex marriage postal survey.
It came in a speech in New York to the anti-gay Alliance Defending Freedom group on Thursday, a group described by the Southern Poverty Law Centre as a "legal advocacy and training group" founded by the Christian right that has supported the recriminalisation of homosexuality, the sterilisation of trans-people and linked homosexuality to pedophilia.
Abbott told the audience that thousands of newly "activated" Australian activists are in need of a new conservative leader, mostly likely Cory Bernardi, and he cited polling by the "no" case showing support for changing Australia's marriage act was slipping with about a week to go in the voluntary vote.
"Given the starting point, just to get 40 per cent would be a moral victory for marriage," Abbott said.
"But my instinct is that shy "no" voters mean that this result could still swing either way."
Classifying the push for same-sex marriage as "just the latest stage in the long, slow erosion of more fundamental beliefs," Abbott appeared inspired "win, lose or draw" by the "no" campaign and he claimed thousands of Australians are with him. He described them as several thousand young people who had become "activated" and risked "an instant ­social media storm and reputational death". These are "robust characters," according to Abbott, in need of a leader.
"The campaign for marriage in my country has mobilised thousands of new activists and created a network that could be deployed to defend Western civilisation more broadly and the Judeo-Christian ethic against all that's been undermining it," he told the audience.
"Such robust characters, once activated, are unlikely to fade away; and could continue to make their presence felt (even after marriage is no longer an issue) because they've had the guts to campaign for a cause they believe in."
To the Member for Warringah, it could represent, in a few short months, the basis of a new conservative activist movement. A counter to GetUp!.
"Here is the nucleus of an organisation," Abbott said "Created almost from nothing when the postal plebiscite was announced, to rival the left-wing activist group GetUp that's been around for a decade; and that boasts it defeated a number of conservative MPs at last year's federal election."
And this will be, according to Abbott, with no support from the Turnbull government cabinet.
"With the leaders of both big political parties, 60 large businesses and most of the major sporting codes all coming out on the other side – and no cabinet minister, not one, in the centre-right government prepared to campaign with them – they will understandably be wondering who and what might represent them in the years ahead," he said.
"The short-term beneficiary of any new group could be the embryonic Australian Conservatives, the only national political party whose leader backed marriage as it's always been.
"In the medium term, these new activists are likely to mean that the long march of the left through our institutions is no longer largely unopposed."
Votes in the postal survey must be lodged with the Australian Bureau of Statistics by 7 November and the results are due to be announced on 15 November.