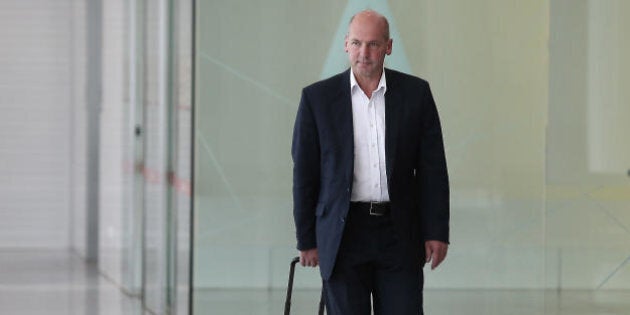 CANBERRA -- The citizenship situation of exiting senate president Stephen Parry, and subsequent embarrassment to the Turnbull Government, takes the cake.
He tested the waters of the other seven public citizenship cases, waiting for the "absolutely clarity" from the strict High Court ruling that was handed down last Friday.
From Israel, the unhappiness of prime minister Malcolm Turnbull with Parry's predicament was palpable. "Look, Senator Parry, I'm disappointed that Senator Parry didn't make public this issue, this issue some time ago, quite some time ago," he told reporters in Jerusalem.
But Parry waited while others fell. And so the question everybody is asking is, what else is out there?
Unless you lead one of the major parties, the expectation is that without an full independent audit of citizenship on federal parliament, this situation will drag on, and on and on.
Here's what political leaders woke up to on Thursday.
"There should be an audit. Parry has proved just how pathetic our politicians can be, which only increases the possibility that there are more people in trouble who have not declared themselves."
"Lawmakers have an elite and privileged role. We pay them a base salary of about $200,000 to give public interest pre-eminence. They have let themselves and the nation down, and an audit would help cauterise this sorry situation."
"Mr Turnbull could signify he is taking charge by announcing an audit when he touches down on home soil. All candidates for federal parliament must ensure they are not citizens of any other country. Compliance is not too onerous."
"This absurd situation must end. A full audit is now required to confirm the citizenship of all federal parliamentarians, otherwise — Brandis's confidence notwithstanding — Australia will endure ongoing speculation over the constitutional qualifications of our representatives."
"This has long been a leadership matter and the longer it is actively allowed to drag on, the more damaging it is for our leaders and politics as a whole. Or are there really that many new dual citizenship cases to uncover?"
"We need an audit of the citizenship status of all politicians, just as the Greens demand. The issue is not merely whether some politicians are not entitled under the Constitution to be in parliament. It's whether our politicians collectively have the integrity to show they not only respect the law but are seen to live by it."
"Given Stephen Parry is the seventh senator to experience an unseemly collision with the constitution, it is clear there should be a full audit of parliamentarians to ensure they are eligible to serve. It's just obvious this should happen."
There is also a growing number of backbenchers supporting a full audit; Former Liberal defence minister Kevin Andrews has on Thursday joined Nationals MP Llew O'Brien, former Liberal cabinet minister Eric Abetz, Liberal MP Craig Kelly, Labor MP Meryl Swanson and Nationals senator John "Wacka" Williams.
"This is going to continue to fester politically unless it is resolved," Andrews told Sky News.
"Australians are looking for strong and decisive leadership. If I was the prime minister I would be ordering, requesting the AEC (Australian Electoral Commission), for example, to immediately undertake an examination of every MP and senator and to report as soon as possible back to the government."
But the prime minister, who is dealing with a reduced majority in the House without the biggest scalp of "Citizenship 7" Barnaby Joyce, is saying no to an audit.
"What is an audit? Does that mean that somebody is going to undertake extensive genealogical research on every Member of Parliament and Senator? Undertake extensive research into foreign laws?" Turnbull asked.
It may cost taxpayers and it is being likened to a "witch hunt" that would reverse the onus of proof, according to the Attorney-General George Brandis, branding an MP as guilty and required to prove their innocence.
"The fact is every member and every senator has a personal responsibility and an obligation to comply with the Constitution," Turnbull said.
That's officially Labor''s view too, via acting Labor leader Tanya Plibersek, "Here's the thing -- the simplest way of addressing this is for every member of Parliament, every candidate, to follow the rules," she told reporters in Sydney on Wednesday.