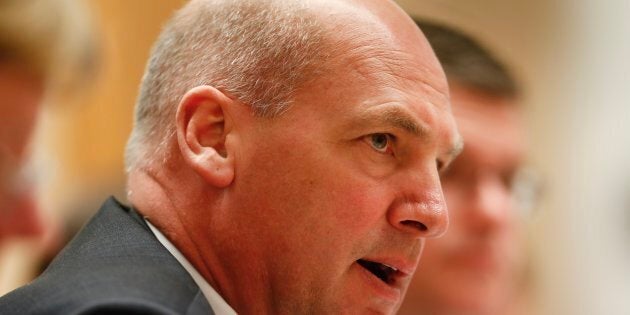 Communications Minister Mitch Fifield has admitted on Thursday to knowing about the dual citizenship concerns of his colleague, former Senate President Stephen Parry, for weeks and said nothing.
The stunning revelation comes after the ABC reported that Parry, who resigned from the Senate on Thursday after confirmation he was a dual UK citizen, told a colleague "months ago" about his concerns and was advised not to publicly raise the alarm.
But in only partially confirming the story, Fifield confirmed to HuffPost Australia that he was told by Parry "a few weeks ago" that he was seeking to double-check his citizenship status and he advised him to "satisfy" himself of his circumstances.
"Former Senator Parry mentioned to me a few weeks ago that he was endeavouring to check his family's records," Fifield told HuffPost Australia in a statement.
"The onus is on all Senators and Members to satisfy themselves of their circumstances and I encouraged Senator Parry to do so.
"He called me on Monday to say that he had sought advice from the British Home Office and had advised the Attorney General of this."
The following day, the UK Home Office confirmed Parry's dual citizenship and he announced he would therefore be resigning from the Federal Parliament immediately, without the need for his case to be referred to the High Court.
The revelation makes Parry the third Coalition member, and the first Liberal, to be ruled out by Section 44 of the Constitution -- which deems dual citizens are ineligible to serve in the Parliament -- after Nationals Nash and Joyce were ruled out last week.
On Thursday night, Federal Treasurer Scott Morrison told the ABC's '7.30' that he has no knowledge of a conversation between Parry and a Cabinet member, advising him to stay quiet.
"I never had any discussion with Stephen about these things. I mean, that's speculation," he said,
"Look, people will want to try and continue to kick up dust around this issue, but what Australians want us to focus on is not setting up some genealogy commission here to go and prise over foreign citizenship laws -- they want the parliament to focus on what matters to them.
"Fair enough, there was an issue here -- people have come forward, many MPs and senators have stood down, and some were upheld by the High Court. But Australians aren't running around trying to go on Ancestry.com checking this out. They're interested in having parliamentarians do their job."
Despite this, the initial response to Parry's admission on Tuesday was harsh. At that point, acting Labor leader Tanya Plibersek savaged the former Senate President for waiting so long to reveal his citizenship issues.
"It's extraordinary that the President of the Senate -- who oversaw several High Court referrals -- did not reflect on his own eligibility until just days ago," she said at the time.
"Malcolm Turnbull famously said that a failure to resolve eligibility issues showed "incredible sloppiness" and "extraordinary negligence. Mr Turnbull has shown terrible judgement throughout this sorry citizenship saga."
As the citizenship saga stretches on, calls have been renewed for a comprehensive audit of the citizenship statuses of all Federal MPs, with Greens leader Richard Di Natale saying on Tuesday that it is time "to end what's going on here".
"It is really time now for the Prime Minister [Malcolm Turnbull] and Opposition Leader [Bill Shorten] to show some leadership," he told '7.30'.
"We need to just end this, we need to end what's going on here. The way to do it is to have a comprehensive audit of the status of all MPs just to ensure if there is anybody else there who is a dual citizen, we deal with it."