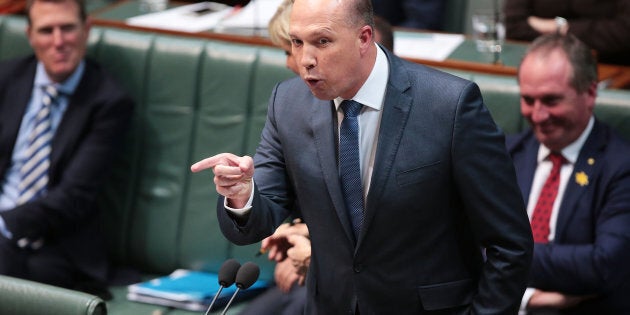 Immigration Minister Peter Dutton has shrugged off comments by Greens MP Adam Bandt after he accused the senior Liberal of being a "terrorist" over his handling of the Manus Island detention centre crisis.
Bandt told a rally in Melbourne on Saturday that Dutton was prepared to kill for political gain, likening him to a "terrorist" for "threatening people's lives".
He also said Australia was "being shamed in the eyes of the world" for its treatment of the remaining 600 Manus Island asylum seekers, who are said to be without water, power and food after the shutdown of the PNG facility.
Dutton brushed off the criticism, saying the federal government stood by its record on preventing asylum seekers dying at sea.
"I think that says more about Mr Bandt and the Greens than it does about me. The Australian Government has stopped deaths at sea. We've got every child out of detention," he said, according to the ABC.
"Mr Bandt, when he was in Government with [former Prime Minister] Julia Gillard, presided over 50,000 people coming on 800 boats and 1,200 people drowned at sea."
More than 1,000 people gathered at Melbourne's State Library on Saturday for the rally before an action at Federation Square backing the men who remain at the centre, despite its official closure this week.
Prime Minister Malcolm Turnbull will discuss the issue on Sunday with newly-elected New Zealand Prime Minister Jacinda Ardern, who is in Sydney for a whirlwind visit.
Ardern this week confirmed that the previous NZ government's offer to take 150 refugees from Australia's offshore detention centres still stands amid the ongoing stand-off on Manus.
Labor Senator Doug Cameron said Prime Minister Malcolm Turnbull had failed on the long-running issue.
"The Coalition could have easily done the Bali process, walked there with our neighbours about how we deal with this issue, (and) done international agreements to get people off the island," he told the ABC.