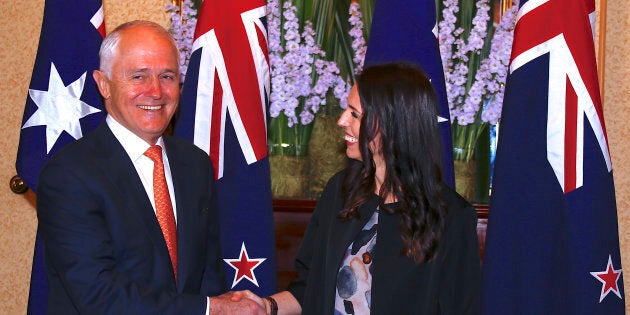 Prime Minister Malcolm Turnbull has rejected New Zealand Prime Minister Jacinda Ardern's offer to take offshore asylum seekers from Nauru and Manus Island.
Ardern is in Sydney for a whirlwind visit after being elected New Zealand PM in October. The brief stop in Australia is the Labour leader's first overseas trip as Prime Minister.
Turnbull and Ardern met on Sunday morning at Kirribili House where they discussed a range of bilateral issues including terrorism, regional security, trade, North Korea and the crisis on Manus Island.
Addressing media after the meeting, Turnbull said the federal government would not take up New Zealand's offer to take 150 asylum seekers currently in PNG and Nauru.
"We thank New Zealand for making an offer, we are not taking it up at this time," Turnbull said.
Turnbull said while he appreciated New Zealand's offer his government would prioritise its existing refugee deal with the US. Under that agreement, 1,250 refugees from the two Pacific nations will be resettled in the US.
Ardern said the offer, originally made by her predecessor John Key, still stood.
"I did renewed New Zealand's offer to take 150 refugees from Manus Island and Nauru ... It is a very genuine offer," she said.
"From the perspective of New Zealand we want our offer to stay on the table so we can assist as much as we are able."
The comments come as roughly 600 asylum seekers on Manus Island remain without power, food and water in an attempt by authorities to encourage them to seek refuge on the island.
The situation emerged after the controversial PNG detention facility was shut down this week.
The crisis has escalated to the point where the UN High Commissioner for Human Rights has labelled it an unfolding humanitarian crisis.
Opposition leader Bill Shorten has previously urged Turnbull to take up the deal, saying that it would not put "people smugglers back in business".