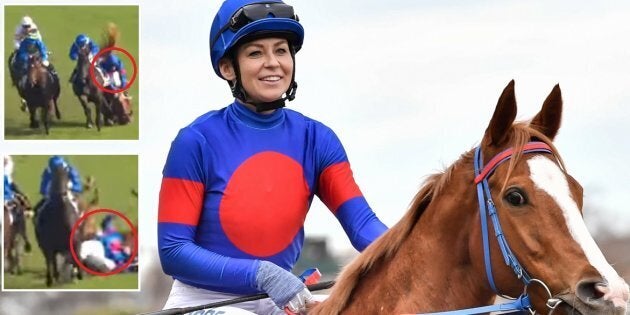 It was the most awful moment. Afterwards, you'd never have dreamed that jockey Kathy O'Hara and chestnut mare Single Gaze would be lining up as serious chances in the Melbourne Cup. But here they are.
The fall happened in April, 2016. Coming round the home turn of the Australian Oaks at Sydney's Randwick Racecourse, top jockey Kathy O'Hara peeled to the outside of the field aboard Single Gaze to make her run.
That's when it happened. In one of those horrible moments which you can file under "that's racing" rather than negligence, jockey Damien Oliver pushed his mount Jameka wide to make its run. It cannoned into another horse, Happy Hannah, which in turn struck Single Gaze.
There were huge initial fears for both horse and rider. O'Hara suffered concussion, and later underwent surgery that night for a collapsed lung. The horse, thankfully, was OK.
Even in her semi-conscious state, as she lay on the Randwick turf, all O'Hara could say to trainer Nick Olive was "Nick, Nick, how's the horse?"
It took until February this year for Single Gaze to race again. Canberra-based trainer Nick Olive extended the olive branch to O'Hara and reunited the duo. Two wins and a string of consistent results followed, highlighted by a close-up second in traditional Melbourne Cup lead-up, the Caulfield Cup, in October.
"She went sensational. She gave everything and I'm so proud of her. She's so tough," O'Hara said after that race.
Jockeys often switch between horses on a race-to-race basis. But when they stick, they often form a close bond. These two have now raced 23 times together, and as you'd imagine, they're great mates.
Really, really great mates.
Onwards, then, to the Melbourne Cup, where Single Gaze will line up as a 40-1 outsider. It's not that there's anything wrong with its form. It's just that there are several hard-fit gallopers who've been running on the big stage for a while now.
Single Gaze may not quite have their class, but she's definitely got the guts.
O'Hara, meanwhile, will try to become the second female jockey after Michelle Payne to win Australia's greatest race. The Sydney-based 31-year-old has been riding professionally for 15 years. In that time she's notched up almost 800 winners, including 215 in Sydney.
O'Hara is in hot form too, having ridden three of the eight winners at the most recent Sydney race meeting just last weekend.
She's never won a race in Melbourne but hey, why not start with the one everyone will remember?