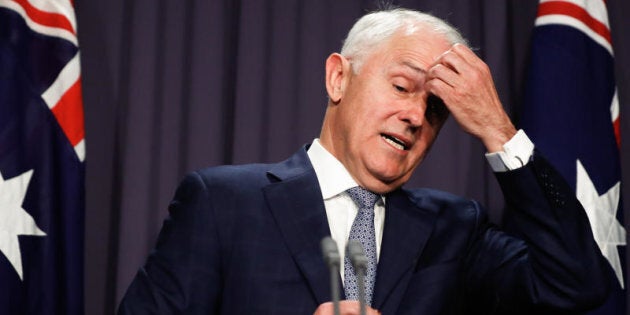 CANBERRA -- The great citizenship drip feed is leaving a dripping constitutional mess around Canberra.
Hours after the Prime Minister stated on Monday he'd been told by the Liberal Party's federal director that all Liberal Party Members "believe that they are in compliance with the Constitution", another federal politician was revealed as urgently trying to confirm his citizenship status.
Can Liberal MP John Alexander's as-yet unresolved citizenship situation bring down the Turnbull Government? What about an election to wipe the slate clean?
And did the Prime Minister just bring in a quasi-audit fix to either sort this mess out or somehow bring down his own Government?
We have already had the deputy PM and five senators knocked out of our fragile, finely balanced parliament.
So this is where we are at. Or Not.
Time For An Election?
But serious questions are being asked about the Turnbull Government's hold on power should it lose Alexander and any more lower house MPs.
Even Turnbull concedes there could be "consequences".
"If the High Court concluded there are a number of members of the House of Representatives that were not eligible to sit in the Parliament, then there would be a series of by-elections. Depending on the result of the by-elections, that could have consequences for the Government," Turnbull told ABC radio on Tuesday.
Independent MP Cathy McGowan is not in that camp and has been offering to "continue to supply confidence and support to the Government".
Speaker Tony Smith has a casting vote in the event of a tie but indicated in May he is unlikely to use it to give the Government a majority.
But lose another lower house MP and reduce the Government to at least 74 members while the results of by-elections are waited on? That is a whole new hung parliament ball game.
The next federal election is currently due mid-2019, but if the federal parliament goes further down the rabbit hole, a snap election would become a live option for the Prime Minister to call to dispense with a series of by-elections and essentially reset the parliament.
No Audit, But PM Clears 2017
Didn't the PM fix this yesterday?
Turnbull and his Cabinet certainly shifted and acknowledged calls for greater transparency but his proposal, for which he is seeking the support of Labor, is no full independent audit and appears designed to give the Government a little breathing space.
Under the plan all federal politicians will be required to publicly detail their citizenship history within 21 days of the individual houses of Parliament approving the measure.
It is a demand to declare to the register of Members' Interests whether he or she was not, to the best of his or her knowledge and belief, a citizen of any country other than Australia -- and failure to do so would be contempt of Parliament. But it is still a voluntary disclosure proposal.
It has to be noted that omissions or incorrect additions to the register are reasonably common and are usually only uncovered through diggings by the media.
There is no mention of "entitlement" to citizenship in the proposed declaration, a key part of the High Court's citizenship ruling. And while parliamentarians are asked to detail the place and date of the birth of parents, there is no requirement to declare the place and date of the birth of grandparents.
The onus remains on the MP and Senator, and Turnbull is not about to create a "huge audit office".
"If you are going to be in a position where you say you do not trust anything any member of Parliament says in their disclosures, then ... you would literally be creating a huge audit office," Turnbull said on Tuesday.
"The system of voluntary disclosure with obviously very heavy penalties, political penalties and personal reputational penalties of people, you know, to conceal things or don't disclose things honestly, I think that works and I think it will work well here."
The House sits for two more weeks in 2017 so the proposed 21-day time-frame, if passed, covers the rest of the year, the fragile period for the Government period without a Member for New England shoring up the working majority.
Labor's Penny Wong has described the proposal as a "blatant attempt to skate through this difficult period to next year."
But What About John Alexander?
We simply don't know yet but the Member for Bennelong is urgently checking his citizenship status.
Under the British Nationality Act 1948, people born to British citizens are automatically given citizenship of the UK by descent.
Alexander was born in 1951 to a British born father.
If he is a dual citizen it will trigger a by-election. He is not in a safe seat. He'd indicated he was going to retire at the next election.
"John Alexander has stated publicly and this is what he said to the party, that he believes he is not a dual citizen," Turnbull told RN Breakfast on Tuesday.
But that is where the PM's Alexander commentary ends.
"I am not going to start front running this process," he said. "We have got respect the process that is set up in the electoral act and the constitution. People should make their declarations and then cases can be referred.
"If a member believes that are a dual citizen now and are ineligible to sit in the parliament then they should resign."
"I take it as a given that every member of the house and the Senate, as of today, believes that they are eligible to sit in the house or the Senate," Turnbull stated.
Alexander "believes" he is an Australian citizen but at this point there is no proof and it is yet to be proven.
"My father was born in the United Kingdom in 1907, before moving to Australia as a very young child.

He became an Australian Citizen as soon as he could. I understand he renounced his British citizenship before I was born, because he was a proud Australian.

I was born in 1951 as an Australian citizen."

John Alexander MP statement
Referendum?
Is the Constitution outdated? Does it need to be changed to reflect Australia's multicultural society?
Liberal MP Craig Laundy wants a referendum to allow MPs to be dual citizens as he is concerned that dual citizenship had been "demonised" and said he would rather people "celebrated" it.
"I just don't think it should be a reason you should be disqualified from standing for parliament," he told the ABC.
Leaving aside that referendums are notoriously difficult to successfully pass and there is a look here that abolishing Section 44 (i) may be politicians looking after their own jobs, the prime minister is pushing back on main argument of having dual citizens in parliament.
"I think it's questionable whether Australians would welcome dual citizens sitting in their Parliament," Turnbull said.
"Craig's raised that point. It's a fair point and, in many countries, dual citizenship – like the UK – is not a bar. But I think the more direct question is, should you be disqualified by a foreign citizenship of which you have no knowledge and which you have never accepted."
He is sending all this to a committee, the joint standing on electoral matters, "and we have to look at, um, a couple of things".
There are possibly changes coming to prevent a situation where MPs inadvertently become foreign citizens of other countries.
But for now there's a constitutional mess on the floors of Parliament and how it's mopped up remains to be seen.